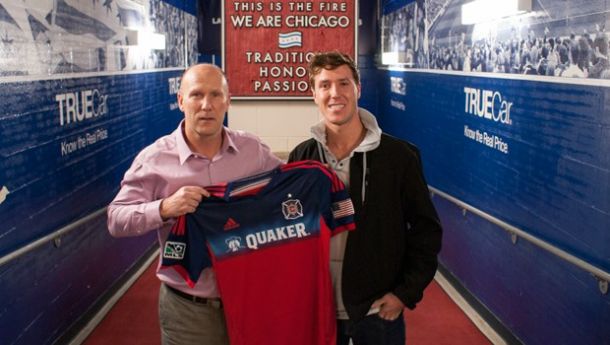 Come 2015, the Chicago Fire will have a very different look about their team. On Monday, they continued their offseason rebuilding efforts by signing former Indiana University defender Patrick Doody to a Homegrown Player contract. Doody spent time in the Fire's youth development ranks before attending Indiana, where he was named to the 2014 All-Big Ten Tournament team and helped lead the Hoosiers to their eighth national title this season.
As per usual, the terms of the deal were not disclosed. Doody grew up in Naperville, Illinois and joined the Fire's youth team ranks as a 15-year-old, and graduated from Neugua Valley High School before joining Indiana. In comments made to club's official website, Doody spoke of how exciting it is to make the step up to the senior team in Chicago.
"I'm extremely grateful for the opportunity to join the Fire," said Doody. "It's neat because I started with the Fire Academy as a 15-year-old so to now come full circle and walk into Toyota Park as a professional is really special."
Doody joins a new wave of Chicago Fire recruits, as the Men in Red have worked hard this offseason to reboot their defense and attack. Doody makes five offseason signings, joining strikers and designated players Kennedy Igboananike and David Accam, midfielder Michael Stephens, and defender Eric Gehrig.
Fire manager Frank Yallop appeared excited by the signing, when he made comments to the club's website. "Patrick is a talented, young player and another local product who understands what wearing the Fire badge represents. It speaks highly of the work our player development system has been doing to produce another player who can make the transition to the First Team."
In addition to being the fifth new recruit of the offseason, Doody joins Harry Shipp, Collin Fernandez and Chris Ritter as Homegrown Players. Additionally, Stephens is a local product. The Fire will be hoping this new core of players can lead them on to more success than they had last season.