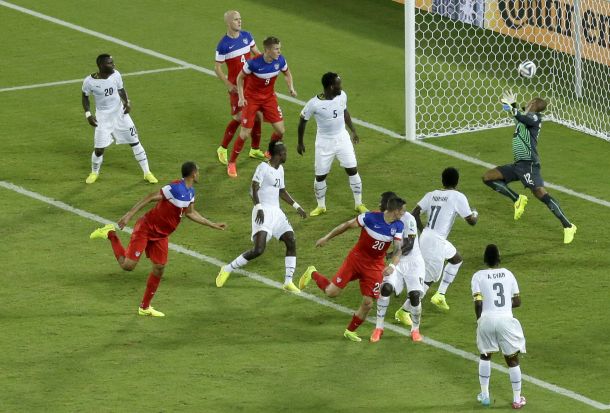 The soccer editors asked our writers at VAVEL USA, what was your favorite American Soccer moment of 2014? Here are their answers.
Eevry Goren: While I'm tempted to follow the crowd and say the Landon Donovan saga is my moment of the year (particularly his retirement as the greatest ever American player,) I think the moment involving the man many viewed as his replacement is more appropriate. That man of course is 19 year-old Florida-born, Bayern Munich youth product, Julian Green. He announced himself on the international stage with a goal against Belgium that gave every American hope, and although we eventually lost the match, you can't write stories much better than that. Green's decision to play for the United States is an absolute coup, and I hope he has many more moments like that in coming years. With hard work and a bit of luck, who knows? Maybe he'll become an even greater player for the United States than Donovan was.
Andrew Miller: My Best US Soccer moment from 2014 is Tim Howard making 16 saves in the US game against Belgium during the World Cup this summer. He played an amazing game, and broke the record for most saves in a World Cup game. He is a true inspiration! Had it not been for his perseverance, the US may have lost by an even greater number. He is a true hero.
Tyler Fisher: My best American soccer experience: The Columbus Crew friendly match against English Premiere League side Crystal Palace. To be there, and have a chance with talking to Palace supporters from everywhere like Detroit, Columbus, London, even Canada; it was one of the best. Palace supporters really know how to support their team.
Joe Wielgus: I was in Portland to experience the 2014 MLS All-Star Week first hand. It was everything I could've hoped for, and then some. Any moment that I wasn't working, I was downtown soaking in the fun. There were futsal tournaments on the mini field built in the town square, costless concerts from some of my favorite bands, and a live show from Men In Blazers. I got to meet some of my soccer idols like Valeri, Dempsey, Zardes, and the legendary Jimmy Conrad just to name a few. All of the costless MLS gear that I got from the week was capped off with winning tickets to a Portland/Seattle game later that year. My favorite 2014 US Soccer Moment is easily my favorite soccer moment of all time.
Stockton Mair: There have been many great things that have happened throughout American Soccer this year. My top moments happened in MLS. That means it is not the World Cup. And no, it is not Landon Donovan winning his final MLS Cup of his career. I have two on mind, and they both happened with my favorite club, Real Salt Lake.
The first moment is where RSL came back from two goals down against the Chicago Fire to win 3-2. It proves that things are worth it if you stick to the end.
The final moment I have in mind is how the team made it to the playoffs for seven consecutive years. SEVEN. They did it with a different head coach this year, and the World Cup taking three of their most important players .With the new head coach, they had to deal with him getting used to substitution patterns. Yes, they had the same system, but that doesn't mean they will do well. Despite all of the worry, they made it, and made the state of Utah proud.
Oliver Lines: Moment of the year has to be John Brooks' goal - Ghana in the World Cup. Even as a Brit, I jumped out of my seat when it hit the back of the net! Great World Cup for USMNT.
Liam McMahon: Without a doubt, my American soccer moment of the year was John Brooks' goal against Ghana. This writer looked that match with friends in a Buffalo Wild Wings, and it started as people were getting off of work. As they finished work, they made their way to the bar and the place filled up. Not everyone was there to look the match, but they began to pay attention as they saw what was happening. They cheered every Tim Howard save and Geoff Cameron clearance. They also cursed Andre Ayew after his equalizer. Finally, the place exploded when Brooks won the match. For me, that will always be the enduring image of this World Cup: sitting in a Buffalo Wild Wings and celebrating with a group of complete strangers.
Matthew Evans: This is by far the most important moment of the year in American soccer. It was a game that needed to be won and at the time, we were trying to claw back from a dramatic equalizer from Ghana. Then John Brooks, one of the guys who was questioned the most about whether he should have made the squad, put head to ball and beats the keeper to give the Americans all three points. What a moment.