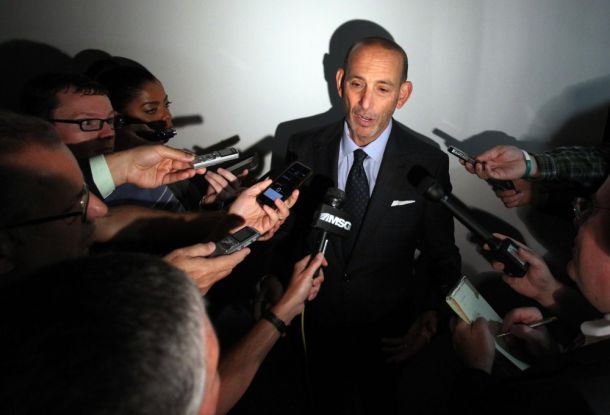 The 2015 MLS season is nearing its starting point. For the first time in recent memory, there is a possibility that the regular season will not begin on time. First kick is scheduled for March 6th as the defending MLS Cup champions, the Los Angeles Galaxy play host to the Chicago Fire. That match may not happen on time as the players and the league are currently working on a new collective bargaining agreement (CBA). The players are willing to strike if their "demands" are not met.
Seattle Sounders players' union representative Brad Evans mentioned that the talks could come down to the last minute. "I think at this point a strike is imminent if we don't get what we want. And that's kind of where we stand," Evans said. "If that's what it takes, that's what it takes. But we all have to be smart about it and we've all got to look at the repercussions, but we've got to know that a lot of players have built this league and feel they should be rewarded with some sort of movement where they play."
Geoff Cameron, U.S. national team and Stoke City player, gave his insight on a recent interview with ProSoccerTalk "I think this is a really crucial moment in the history of the league and I hope that it all works out best for everyone involved because one day it would be great to head back to MLS."
This is a crucial point for MLS. Last year the league set attendance records when they averaged over 19,000 fans a game for the first it in their history. If you would like a look at how the league did team by team, click here. MLS is drawing more fans per game on average than both the NBA and NHL. It is amazing how far the league has grown in the past ten years. Since the beginning of the 2005 MLS season when there were 12 teams, the league has expanded to 20 teams at the beginning of this season and is looking at 22 by 2017.
The league is hoping to grow attendance every year. If there is a strike prior to the 2015 season, it will do nothing but hurt their goal in the end. Sure you will still see your hardcore types that will show up no matter what, but the casual fan must be accounted for as well. Look back to when Major League Baseball went on strike in 1994. They lost a lot of fans and quite frankly if it were not for the pursuit of the home run record in the summer of 1998, it may have never gotten back as quickly.
This writer fears if there is a strike prior to the beginning of the season, it will do far more damage than good in the end. The players would like a little more freedom when it comes to free agency which currently does not exist. It is important for older players who have put in their time playing in MLS and helping build the league.
"We feel we deserve it now. We feel we've put in another five years of growing this league and especially those that have played in the league for 10 years. We think we should be able to choose where we go," Evans said. "We don't want astronomical prices. We understand the economics of it. We've had a phenomenal economics team look at where the league stands, where we stand as players, and we want what is fair for everybody."
Give the players what they need and continue to grow the league. Don't make the same mistakes other leagues have made in the past. A strike by the players does nothing but hurt you at this point. Do the right thing and make sure the season starts on time in Carson, CA on March 6, 2015.