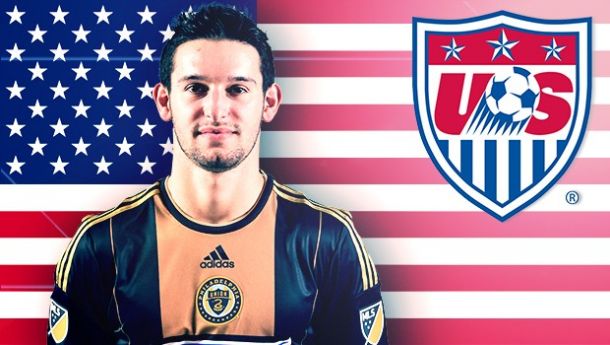 Philadelphia Union midfielder Zach Pfeffer has been called up to the United States U-23 team for its' friendly in Denmark tomorrow. Tomorrow's match will be the second for the team in 2015 as they begin preparations for qualifying for the 2016 Olympics in Rio de Janeiro, Brazil. The match will take place in Copenhagen.
Pfeffer, who just turned 20 in January, has represented the United States at the U-17, U-18, and U-20 levels previously, with his last youth team cap coming in September 2014 during a U-20 camp in Argentina. Pfeffer scored the lone goal against Argentina in a 1-1 draw. In three matches with the U-20 team he scored three goals and added an assist. Pfeffer is the first homegrown player signing in Union history and the fourth-youngest ever in Major League Soccer. Pfeffer has played sparingly so far for Philadelphia but after a strong preseason he is being counted upon as a key player off the bench for the team.
He is currently serving a two-game suspension for a red card and will miss his second game this Sunday at Kansas City. Previously Pfeffer has spent time on loan to the Harrisburg City Islanders, Philadelphia's United Soccer League (USL) affiliate and spent the 2013 season on loan to the German Bundesliga's Hoffenheim, where he played for their U-19 team alongside fellow U-20 member Russell Canouse. Pfeffer scored for Harrisburg Saturday in their season opening loss to Pittsburgh.