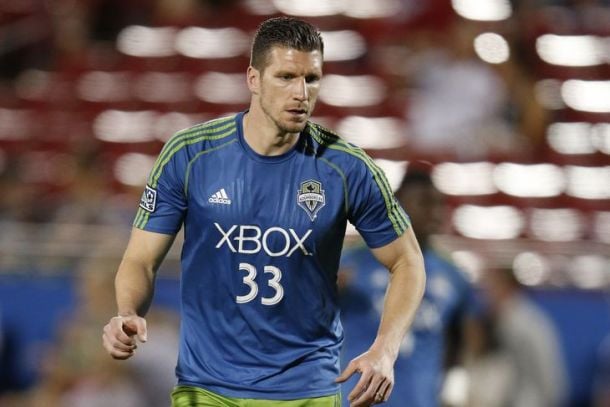 The Montreal Impact have acquired Major League Soccer veteran Kenny Cooper off waivers. Cooper was cut this month by the Seattle Sounders who cited finances as the primary reason. Montreal is the fifth club and sixth stop of Cooper's career in MLS. He started with FC Dallas in 2006 before leaving for Germany in 2009. Upon his return in 2011, he spent a year with the Portland Timbers, followed by a year with the New York Red Bulls. In 2013, Cooper ended up back in Dallas before spending 2014 with the Sounders. With the loss of Cameron Porter to ACL surgery, a move like this was necessary for the Canadian club.
Jack McInerney and Dominic Oduro are the current potential starters for the Impact, but Oduro has been starting as the right wing in the 4-2-3-1 Montreal has run for all of 2015. Justin Mapp, who usually starts at the wing position went down in the season opener with a dislocated elbow and is expected to miss four months. Andreas Romero has also started at the right wing position this season, but Oduro appears to have the starting job since he started both CONCACAF Champions League matches against Alajuelense. With Oduro on the right wing, that left Montreal with rookie Romario Willams and Home Grown Player Anthony Jackson-Hamel as the only backups. Neither player is quite ready for a permanent role with the Impact.
Cooper brings veteran leadership to young group of forwards as well as a potential starter to Montreal. Cooper is thirty years old and more than capable of earning a starting spot with the Impact. His size makes him a prime target forward for the likes of Ignacio Piatti, Dilly Duka and Dominic Oduro to play off of. His 75 goals in 210 Major League Soccer appearances prove that he is a threat to score as well.
Montreal seems to have found it all with the acquisition of Cooper. He may or may not be a starter, but he is definitely a veteran leader in the locker room, a late game sub with the potential to score, and a mentor for the young strikers on the roster. For a guy that wasn't playing much with his previous club, Cooper may have found the best spot for himself too. Consistent minutes and another chance to prove he can still compete as a starter may give him the fresh start he needs.