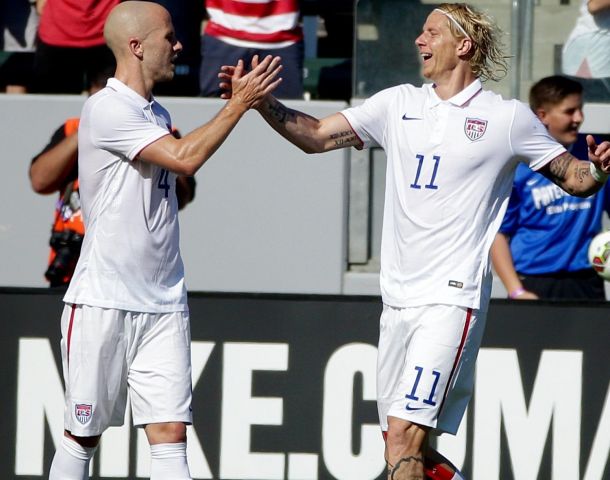 Dos A Cero. In English the translation interprets as "two to zero". This phrase is coined as a redemption for United States soccer against the Mexicans. For years, the Mexican team dominated the Yanks on the field but the tide began to turn come the 2000's era. February 28, 2001 at Columbus Crew Stadium, the United States hosted Mexico in a World Cup Qualifier for the 2002 World Cup. Crew Stadium packed out to see the USMNT and Mexico battle stateside. Through goals in the 47th and 87th minute by Josh Wolff and Earnie Stewart, the boys in red, white, and blue secured a 2-0 victory and three massive points in their World Cup Qualifying campaign. Victory against the Mexicans was a more special feeling this time around though. There was a sense of a change in the direction of this rivalry, as Mexico no longer controlled it like they have done so in the past. This qualifier was remembered as Dos A Cero, the two to zero victory over the bitter rivals to the South.
Wednesday night marked the sixth 2-0 victory that the United States has accomplished over Mexico since 2001. Though the match did not fall on the FIFA International calendar, which limited the choosing of players, it was still a highly entertaining contest; when is USA-Mexico not? What a night for the lads playing for the Stars and Stripes, and what a night it was for Jordan Morris and Juan Agudelo. Imagine, being 20 years old going to Stanford and playing for the U.S. national team. Crazy to think of right? Now imagine all of that plus scoring the first goal of the night, against Mexico, on only the third senior men's national team appearance. Jordan Morris was that man, a player unpredicted to make the starting eleven in such a huge encounter.
Juan Agudelo suffered such a torrid time in England at Stoke City in 2014. He failed to break into the side, and was eventually loaned out to Netherlands to play until New England signed him back to play in America. Wednesday night was Agudelo's lifeline. With Jozy Altidore unable to play due to his red card against Switzerland, a spot opened up for Agudelo. He did not start the match, but came on in the second half and made an impact. The Revolution striker needed to score on the night, to make a name for himself again for this American team, and he succeeded scoring his first USMNT goal since 2011.
Jordan Morris looked promising from the get-go. No chances presented themselves in the early stages but Morris' combination of speed and power was entertaining to watch. The first opportunity came to Pumas striker Edurado Herrera who brought the ball down in the box but shot wide of Nick Rimando's net. Possession was back and forth throughout the night, especially in the first half, both teams not playing quick enough, losing the ball, and both sides not creating chances out of potential opportunity. Kyle Beckerman shot from distance but it went wide, and Herrera had a header opportunity that went wide. Other than those few chances, there wasn't that extra bit of quality to get the ball into dangerous areas.
At halftime the score read 0-0 and Klinnsman made very key substitutions. Miguel Ibarra from Minnesota United, replaced Joe Corona and Brek Shea (Orlando City), replaced Greg Garza (Tijuana). Suddenly there was life in the game. Pressure mounted by the USA with Mix Diskerud fizzing the ball wide on a cross. Beautiful build up play by Michael Bradley led to Jordan Morris scoring in the 49th minute. Bradley spun out of a challenge to take the ball upfield and pass off to Gyasi Zardes. Looking for a return on the one-two combination, Mexico blocked the ball being played back to Bradley but it fell perfectly to Jordan Morris who took space and slotted past Mexican keeper Cirilo Saucedo, as cool as a cucumber.
USA took a 1-0 lead and it was Jordan Morris' first ever goal for the United States. Erick "Cubo" Torres than had an opportunity for Mexico but his shot was easily saved by USA substitute goalkeeper, Will Yarbrough. El Tri contained a little bit of pressure on the U.S., but the back line for the Americans was great all game. Mexico then conceded to wave after wave of American attack which ultimately led to a second goal by the Yanks, courtesy of substitute Juan Agudelo. Bradley again started the attack sending a long ball to Agudelo who had a world class first touch to bring the ball down. He then took on a Mexican defender, who slipped, which allowed an open lane and shot from the top of the eighteen yard box to hit the back of the net to put the USA up 2-0 in the 72nd.
Another installment of the USA-Mexico rivalry ended to a 2-0 scoreline in front of over 64,000 in attendance. There wasn't really much to say about the Mexican squad on Wednesday night. El Tri were a pure, Liga MX team with no regular starters, and not nearly as much talent as they would have if the match happened during a FIFA fixture date. Nonetheless, the Stars and Stripes prevailed over the enemy, and little by little there are signs of progress.
For starters, we maintained a clean sheet. Adding onto the clean sheet, we did not give up any second half goals which have been our problems in tne past friendly matches. The defense was strong, not allowing many real attacks by Mexico to pursue. Mix Diskerud was phenomenal in the midfield, linking together all around the pitch with his teammates. DeAndre Yedlin starting at right back again meant for more stability, and definitely more of an attacking threat at fullback, along with Garza and Shea. Zardes and Morris/Agudelo held their ground up top and eventually two goals were scored between the three.
Ibarra coming onto the field added a new flow of attack, and he impressed in his minutes played against Mexico. One dark spot in the squad was Michael Bradley. At central defensive midfield, Bradley is a world class player. Being deployed at the central attacking midfield rollis a weak spot in his game. Often times he was too slow in attack and releasing the ball off of his foot. He was not thinking quick enough when receiving the ball, and at times was not sure what to do once he got possession of the ball. Diskerud at CAM, and dropping Bradley to CDM would work out in better favor for the USA, and it's difficult to understand why Klinnsman does not roll that setup out. A win is a win though, and it is huge for the squad, especially over rivals, Mexico. Always remember, Dos A Cero.