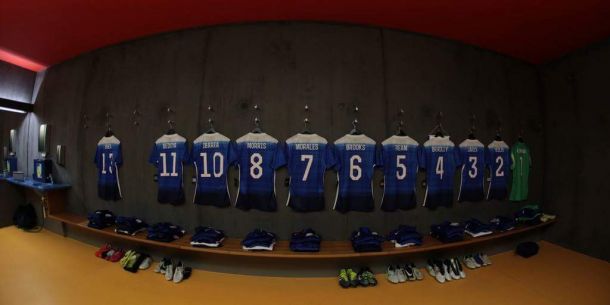 Welcome to the USMNT edition of the Vavel USA MLS roundtable. This week the writers were asked six questions regarding the development and performance of the USMNT under Jurgen Klinsmann, the result against Mexico, and to look ahead towards the CONCACAF Gold Cup. Afshin Zahraee, Blayne Riffle Chris Blakely, Homar Hernandez, Joe Wielgus, Kyle, Nowotny, Liam McMahon, and Matthew Evans all joined in. Vavel USA is also proud to bring you responses from Manuel Rodriguez from Vavel Spain.
1. What is more important to you regarding the USMNT: Winning, player development, or improvement?
Afshin: In a friendly like this, player development is the most important aspect. Seeing a collegiate footballer like Jordan Morris get a chance and grab it by the horns is fantastic. Additionally, it's important to mix young players like Ventura Alvarado and Gyasi Zardes into the side so they understand what it means to play for the USMNT. The more options you have, the better off your team is. Klinsmann is doing a great job of using these friendlies to integrate and develop new and young players. Depth is important as injury can strike at any time. The improvement and winning will come with player development.
Blayne: At this time, the focus should be on player development and preparing for the 2018 World Cup in Russia. Yes the Gold Cup is coming up later this year, but the big trophy should always be the goal. With the current talent pool, developing younger players will lead to an overall improvement. Winning is nice, especially in rivalry games or against major opponents, but should be secondary until it comes time for World Cup Qualification rounds. Until the USMNT has a steady of elite talent being developed domestically and overseas, it's on US Soccer to do a lot of the work.
Chris: It is a little bit of all three to be honest. We are Americans and we hate it when we lose, but to get better and win more often the player development has to get better which in returns helps improve the team. All three go together.
Homar: Player development is practically in itself the major way in order to win and improve. The United States must make this more of a primary objective to develop their first arguably world class player.
Joe: Winning is the most important to me. Although I think working towards the world cup is ideal, winning the world cup is not realistic. We should be focusing on the Gold Cup first and foremost.
Kyle: At this point in the World Cup cycle, identifying and integrating new talent has to take priority. This is doubly true with the US having won the previous Gold Cup in 2013, giving them a great chance to qualify for the 2017 Confederations Cup regardless of their performance this summer. Integrating that talent means giving them consistent minutes on the field to prove themselves, or not, something that Jurgen hasn't done well up to this point. In fairness to him, winning this summer's Gold Cup is hugely important to him and the program.
Liam: Overall improvement. Friendly results mean nothing. As long as the team is generally improving and they're moving in the right direction as we head towards the Gold Cup, I'm fine with that. The Mexico result is a big boon though.
Manuel: In my opinion it´s better the player development, because USMNT are in this moment over a period of renovation. Young players like Alvarado, Morris or Zardes, need to play a lot of international matches. Thus USMNT have a group of experienced players for the future.
Matthew: Improvement. It is always nice to see the team win games but that will be tough upcoming with friendlies against Netherlands and Germany. I would like to see the team come out of those games better than they went into them. The cohesion and chemistry of the team will be very important with the Gold Cup and World Cup Qualifying upcoming,
2. Have you ever been, are you still on, or have you jumped off the Klinsmann bandwagon and why?
Afshin: I've always been on the Klinsmann bandwagon. The US needs his type of character and mentality. Until now, we've never had someone come in and question the way we run things. He brings a different mindset to the side, one that will make them stronger. Obviously Germany is a footballing powerhouse, but Klinsmann's controversial youth movement in 2006 saw the current team reap the reward of a World Cup Championship. Transformations like this take a while and require patience. Klinsy has done well in competitive matches of late, too. The USMNT won a Gold Cup, very comfortably qualified out of CONCACAF, and got out of the arguable Group of Death at the World Cup. European countries that used to scoff at us have taken notice.
Blayne: I have been on the Klinsmann bandwagon since day one. The biggest benefit the National Team has seen under Klinsmann is the development and emphasis on youth talent and building from there. For the first time in a long time, US Soccer fans know who the up and coming talents are and have seen a lot of them play. We are already seeing some of the benefits of his leadership and more will come. Germany's World Cup team in Brazil was largely found in the youth system Klinsmann helped build. As long as he keeps doing that for the US, he will have my support.
Chris: I was hesitant at first in regards to Klinsmann being named the coach. The one thing that bothered me the most was how hard he was going after dual citizen players. Now, after four years, he see why he went the way he did. I also like how he is giving the younger guys a chance to succeed. Hell, look at what Jordan Morris did against Mexico. The kid is only 20 years old and he has three caps and a goal.
Homar: Klinsmann has the right attitude for the team, but he easily could be criticized for not being hard enough on the players and words he has said to the media. Not just done with him yet.
Joe: I always have been on the Klinsmann bandwagon, but the Donovan omission from the World Cup was tough to swallow especially considering the results. I would like to see Klinsmann around until the next World Cup at least.
Kyle: I've never been on the Jurgen bandwagon due to his lack of tactical acumen and seeming lack of knowledge of the US player pool. While an in-depth knowledge of the pool isn't hugely important, so long as you surround yourself with those who do, the lack of having any kind of tactical depth is damaging to this team. The US has long been a sum-of-its-parts kind of team. Each individual player may not be very good, relative to the world's top teams, but collectively they've always been able to hang with most teams. Under Klinsmann that hasn't been the case far more often than not. The over-emphasis on physical training has been strongly suspected in many of the injuries to players over the past 15 months. His treatment of the players in the media has left a lot to be desired as well as his aloofness in accepting any of the blame. With results matching, at best, those of his predecessors, it's left many fans wondering why he is worth many times more in salary.
Liam: I've always been impressed by Jurgen Klinsmann's man management skills. He doesn't seem to have the tactical nous of the top managers in world football, but you can manage international teams without that nous. I've never been firmly on the bandwagon, but I still view him favorably.
Manuel: I never have agreed with Klinsmann and his soccer idea. Klinsmann used a lot tactical system, and many methods of game. With Klinsmann, USMNT has lost her identity.
Matthew: I have been a big fan of Jurgen Klinsmann for a long time, both as a player and a manager. I feel like he knows what he is doing and I trust that he will get the most out of his players. His approaches are different than what we are used to seeing with the National Team but I think they will pay off in the long run.
3. How do you feel the USMNT fared against Mexico on Wednesday?
Afshin: The USMNT looked very solid. Obviously it was not their best performance, but the team has improved exponentially over the past few friendlies ranging from the Denmark match to this match. It was especially nice to see them maintain a clean sheet and not give up a goal in those last 15 minutes. The ball movement and link up play was sublime at times, which is extremely encouraging. The most encouraging aspect, though, was preventing any prime scoring chances for El Tri.
Blayne: The USMNT exceeded every expectation I had set. The defense looked good, the young guys played more than expected, and the vets all looked sharp.
Chris: They did much better than their previous friendlies the last few months. That being said, there will be naysayers out there saying that the U.S beat Mexico's "D" team. I'm sorry, a win is a win.
Homar: Knowing that the USA technically had better overall players with most of the basis of Mexican players not playing, I could still say the younger players did their job and executed in order to get the win.
Joe: I was pleasantly surprised at how well they did against Mexico. I guess I should know better than to expect anything less than dos a cero at this point though.
Kyle: The US did ok in their game against Mexico. The first half left a lot to be desired but the team was able to pick up the pace in the second half. The forward line showed their youth and inexperience all game long. To be fair to them, the two goals were scored by young players (Morris and Agudelo) but as weak as Mexico was defensively there was at least another goal there for the taking. It's a promising start for those players. Given the lineups for each team, the US should have won the match and they did. The only disappointing parts of the game were the starts handed to Beckerman and Rimando. With the Gold Cup just a couple months away and Qualification not long after, it'd have been nice to see younger players given a chance in a big match in a tough venue.
Liam: It was a very, very good performance from the United States. Mexico will make plenty of excuses, but it was a very good performance and an even better result. I was particularly impressed with the performances from Jordan Morris, Miguel Ibarra, Deandre Yedlin and MIx Diskerud.
Manuel: My feel was USMNT did not have a good way of play. I do not share the idea of playing straight to the forwards. They need another way of play.
Matthew: The team looked fairly well. I was very impressed with what I saw and how sweet was it to add to the #DosACero legend? It was a good game to watch, a good look at the depth for both sides.
4. Who was the best player for the USMNT in the game?
Afshin: Michael Bradley was the US metronome in this match and it seemed like all the build ups worked through him, especially in the second half. Bradley has been moved around from position to position and picked apart by analysts, but there is no denying that his calm demeanor on the ball and vision were key in causing the Mexican backline trouble in the final third. Mix Diskerud is a close second as he made many incisive passes in dangerous areas. His aggressive tackling was encouraging as well. The key to these two being able to run the show without having to take on too much responsibility in the back was playing Kyle Beckerman and Perry Kitchen when Beckerman went out due to injury, to protect the back four.
Blayne: With everyone playing well, it's hard to pick one guy. Jordan Morris stands out because of his age, experience, and his goal.
Chris: It is truly hard for me to answer this one because I didn't get to see the entire game, but from what I saw I enjoyed watching Morris and Zardes working hard. Also Brek Shea impressed me a little bit as did Juan Agudelo.
Homar: Kyle Beckerman was playing well until he came off with an injury, along with Michael Bradley living up to the "General" name in the heart of the midfield.
Joe: I was very impressed with Brek Shea and Deandre Yedlin
Kyle: The best player for the US was Michael Bradley. Despite being played high up the field, again, the captain did a great job playing both sides of the ball. He was able to be a creator in the middle, dishing out several dangerous passes. His defense was stellar as well, frustrating the Mexican attack and limiting them to mostly low-percentage chances.
Liam: I'll give man of the match to Jordan Morris. Although the four I mentioned in the last answer were all very good, Morris' goal was very well taken and played really well. I'll be very interested to see if he comes back to Stanford for another year.
Manuel: For me the best player was Jordan Morris. Not only for scoring the goal that opened the scoring, but because he was the most active player in the attack. But I need to say, that Gonzalez and Alvarado made a great match.
Matthew: Mix Diskerud was the best player for the National Team. He had some good plays in the offensive third but his defensive play was second to none. I was very impressed with how he looked. Happy for Jordan Morris and Juan Agudelo for their goals as well. Big boosts for the young attack.
5. How do you feel about the pitch condition, Mexico's complaints, and the Alamadome being selected as the venue?
Afshin: Mexico has all the right in the world to complain. The pitch was disastrous; balls were either bouncing on players unexpectedly or sticking to the turf. Both sides are lucky, pending the outcome of the Beckerman injury that no one tore up their knees on that turf. Surely, US Soccer could have picked a better venue than an indoor stadium that naturally doesn't have grass or turf. This game turned into a road match on home soil. If that was the goal, why not play the match in Phoenix or Los Angeles where they at least have functioning fields?
Blayne: The field was absolutely appalling. Putting a layer of sod over concrete just days before a game is unacceptable. We are lucky Mexico didn't cancel. There is no excuse for a field like that. Unless the stadium is properly prepped, there is no reason to play in it. The Alamodome was not prepped. I'm ashamed to have seen conditions like that in our home country. I remember a hex game with a field in similar conditions and how much negative press it got from the players and US Soccer. Providing those conditions to an opponent is hypocritical.
Chris: There are a few choice words that I would love to use, but aren't suitable for print. So I will use three. Bad, Bad and Bad. The pitch was terrible and an embarrassment. I was okay with the Alamodome being selected. Hell, it's the first time the USMNT have played in San Antonio. Also, there were a lot more U.S. fans than they thought would show up.
Homar: The selection of the Alamodome was strictly a marketing and ticket selling venue in my eyes. The "pitch" was disgraceful and embarrassing towards the US Soccer Federation and its fans.
Kyle: The Alamodome was a great choice of venue. The support that the local side, Scorpions, get is great and the ability of the city to host such a big match is a good precursor of a possible MLS expansion side. That said the field wasn't perfect but neither side should be shocked by that. Playing in CONCACAF usually results in some pretty poor fields across the region. While the US should be held to higher standards it's not a bad thing to get the kind of practice needed for Qualification. The complaints from Mexico were hollow. This was nothing but a cash grab for both federations and neither would give up on it.
Liam: Mexico can stop complaining. Yes, the field was crap and yes neither side put out a full strength side. However, the United States completely outplayed the Mexicans. The Alamodome was a very good site; it was great to see a lot of American Outlaws there. Of course Mexico were going to outsell the US, the match was being played in Texas. However, it was a very good showing from the American supporters.
Manuel: I think that the selection of the Alamodome was wrong, not for the situation of the stadium, close to Mexico, but by the poor pitch. This has not been at the height of the importance of the match.
Matthew: I did not like the selection of the Alamodome as a venue. These games between the United States and Mexico that take place on American soil should be played in a pro-American venue. I hate watching "home" games with a pro-opponent crowd; it screams of money grab by the United States Soccer Federation and is not fair to our players.
6. Will the USMNT be ready for the Gold Cup, which players from 2015 don't make the cut and who will be a surprise inclusion?
Afshin: As I mentioned earlier, Jurgen Klinsmann will absolutely have the players ready for competitive fixtures, and that includes this year's edition of the Gold Cup. Joe Corona continues to get the occasional call up without impact. One would imagine that he is running out of chances and will likely be left out of the Gold Cup squad. While he may not start at the Gold Cup, Jordan Morris likely clinched his spot in the 2015 USMNT Gold Cup squad while also likely knocking out Miguel Ibarra; not because Ibarra played poorly, but because Klinsy likely only has one spot for the two. In terms of surprise inclusion, look for Perry Kitchen or Wil Trapp to get the call, especially if Beckerman's injury keeps him out of the Gold Cup.
Blayne: Klinsmann always seems to get the guys that are ready for competitive play when the time comes. Fans may not always agree with his selections, but the teams always perform well. Friendlies are the time to tinker, but the main core called up for competitive matches is always ready. The periphery guys are sometimes questionable, but Klinsmann must have his reasons. Bobby Wood and Brad Evans will likely miss the Gold Cup. I also wouldn't be surprised if Jermaine Jones and Clint Dempsey are left off. Health is becoming an issue for both and the younger players are pushing them harder all the time. DeAndre Yedlin could easily be left off as well. He will be starting his first full season with Spurs and not be in midseason form. As for who will be the surprise inclusion, I'm going to say Chris Wondolowski. There is a lot of chatter about why he continues to be included, but his veteran leadership and composure go a long way.
Chris: Hard to say if they will be ready for the Gold Cup. They need to get their crap together and now. I'd be surprised if Jordan Morris didn't make the final 23 just to give him the experience to play in an international tournament that means something. He may not play, but being there matters. I'd also say that Morris would be a surprise inclusion as well. Just think back to when DeAndre Yedlin was included in the final 23-man roster for the World Cup. It shocked a lot of people. Now look at where he is and how well he is playing for the USMNT. On second thought, never mind. Jurgen, don't pick Morris. I want him to sign and stay with the Sounders. He is their homegrown player after all.
Homar: Don't be surprised if Klinsmann continues in the philosophy of bringing younger players to give them experience. We will see the usual veterans that are still maintaining themselves like Clint Dempsey, Jozy Altidore, Michael Bradley and others if they remain healthy. Players like Rubio Rubin, Miguel Ibarra and Aron Jóhannsson will have to fight for the forward positions. The shaky defense recently will challenge defenders like John Brooks to retain his position, especially with Besler being injured recently and the changes with Shea and Garza at left back. Do not see Bobby Wood making it into the Gold Cup roster. Overall, I think the United States are not going to be completely fit for the Gold Cup depending on team chemistry and constant formation/positioning changes.
Joe: Not around for Gold Cup: Brad Evans and Chris Wondolowski. Surprise inclusions: Bobby Wood and Juan Agudelo.
Kyle: The US will be ready for the group stage of this summer's Gold Cup. The knockout rounds are a whole different problem. Likely they'll face Costa Rica in the semi-finals and getting past the Ticos is a very tall order based on current form for both teams. As for the roster it's difficult to predict as Klinsmann loves to toss players into the pool. Hopefully we won't see players who could be better suited elsewhere, such as the U-20 World Cup in June (I'm looking at you Julian Green and Jordan Morris). Hopefully he'll have a plan if certain key players are injured so the team can continue smoothly, rather than what happened last summer at the World Cup. Hopeful inclusions are Club America center back Arturo Alvarado and Club Leon goalkeeper William Yarbrough. Cap-tying both players, and fully integrating them into the system for the 2018 World Cup, should be key. Both are talented players capable of helping the US for years to come.

Liam: The US will not just be ready for the Gold Cup but they will win the Gold Cup. It's really hard to pick out one or two players who will come out of nowhere to surprisingly make the squad because Klinsmann has tried out so many different players since the World Cup. However, my bold prediction is in terms of formation. Jurgen Klinsmann will realize that playing a 4-4-2 with a diamond midfield doesn't work, and he will switch to a 4-3-3. Michael Bradley will return to a withdrawn role, and Clint Dempsey will play as an attacking midfielder in a triangular midfield.
Manuel: USMNT will not prepare for the CONCACAF Gold Cup. Until Wednesday they had a lot of problems in defense. But if the plays like yesterday, they will prepare. I think it´s early to say who players will gonna go to de CONCACAF Gold Cup.
Matthew: I think they will be good for the Gold Cup, no reason why the United States should not make the final. A player that could squeeze his way onto the roster is Ventura Alvarado. Considering that a majority of the first choice center back play in Major League Soccer, we could see Alvarado given a chance on a bigger stage.
Thank you for joing Vavel USA for the USMNT edition of the MLS Roundtable. Please join us next time as we get back to Major League Soccer discussion.
Do you have a question you would like answered at the roundtable? Is there an opinion you would like a reaction to? If so, please feel free to submit questions to the group by Tweeting @riffbw.