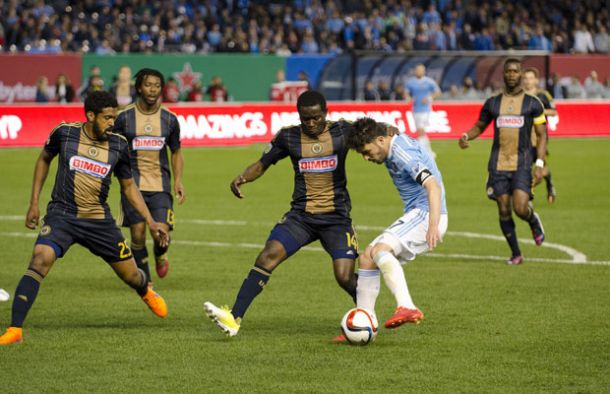 Coming off of 4 points in a home-and-home series against New York City FC, the Philadelphia Union face off against Eastern Conference foe New England Revolution on Sunday at 5pm ET (TV:ESPN2). The Union face a quick 72-hour turnaround from their Thursday game in which they earned a point on a late C.J. Sapong goal in the 86th minute. "To know that you can go on the road and get a result is great for everyone's confidence" Coach Jim Curtin said in his post game press conference.
Coming off short turnaround, it will be interesting to watch how Curtin decides to rotate his Starting XI. CJ Sapong has proved that he deserves more minutes and on the shortened week, it is possible he could make his second start in a Union shirt. A possible holdout will be Vincent Nougeira, who came out of Thursday's game with an apparent ankle injury. According to Matthew De George of the Delco Times, Nougeira sprained his ankle and is day-to-day.
BTW, it was a right ankle sprain that chased Vincent Nogueira from last night's game. Same ankle that kept him out vs. SKC. He's day-to-day

— Matthew De George (@sportsdoctormd) April 17, 2015
Furthermore, it will be worth seeing the availability of Chistian Maidana in this game. For fans who have watched most of the games, it has been clearcut how much the Union improve offensively with him on the field. However, he is still not completely fit for 90-minutes as he progressed from 10 minutes on 4/11 against NYCFC to 30 minutes on 4/16. Especially on such a short week, it will be have to be seen how available, if at all, the number 10 will be.
Referee: Mark Geiger
TV: ESPN2 5pm Eastern Time
Last 3 games:
PHL: 1-1-1 (4 points) T-6th place as of 4/17
NER: 1-1-1 (4 points) 4th place as of 4/17