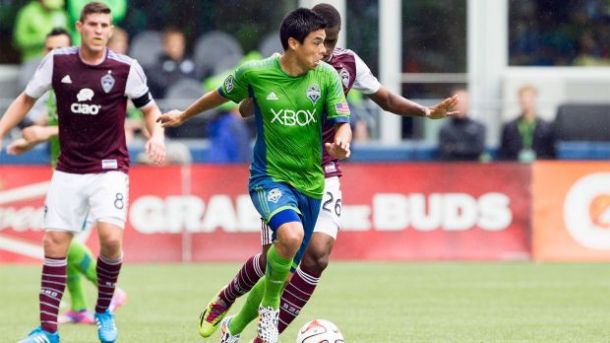 The Colorado Rapids won for the first time in a record 18 matches and also scored their first goals of the season in a 4-0 victory at FC Dallas last Friday. Yup, their first four goals of the season came in game five of the year for them ending a 362-minute scoreless streak to start the season, the second-longest in MLS history. The Seattle Sounders are finishing their brief two game road trip coming off the heels of a 1-0 defeat to the Los Angeles Galaxy. The Sounders were without designated player Clint Dempsey last weekend as he was having an issue with his hamstring.
Neither team is sitting in an ideal situation early in the season. Seattle currently sits at 2-2-1 (W-L-T) on seven points after five matches and sits in eighth place. Colorado sit at 1-2-3 on six points after five matches as well. They are currently sitting in ninth place. Both teams need a win this weekend and the Sounders are looking to make it five straight over the Rapids. They have not lost to Colorado since a 5-1 defeat back in October of 2013.
The Sounders are mostly known for their star-studded offense with the likes of Obafemi Martins, Lamar Neagle, Marco Pappa and Dempsey. Colorado has been playing lights out defensively so far in this young season. The Rapids have only given up two goals all year, but haven't scored at home. The last time the Sounders played a good defensive minded team, they won 1-0 over the Houston Dynamo.
The Rapids showed that they could score goals and score them in bunches. The question is, can they do it at home and keep up the stellar defensive play as well? Clint Irwin has been a rock in goal for the Rapids all season. He is one of the better goalkeepers in the league and he also leads the league with four clean sheets. Seattle's 'keeper, Stefan Frei, has been having a solid year as well. He enters this match with three clean sheets and has a chance to collect a fourth.
If the Sounders have both Martins and Dempsey available against the Rapids, it could be a long night in Colorado for the home team. It would also be awesome to see the Sounders defense to slowly continue to get better and better as the season progresses. For the Rapids, they need to enter this match with the same mindset they had last week. If they do that, it should be a very entertaining match for both teams.
In previous previews that this writer has done, he has been nowhere near correct on his predictions. So your truly will just sit back tomorrow and enjoy the game and not worry if his prediction was right or wrong.
FUN FACTS
REFEREE: Drew Fischer
MLS Career: 41 games; FC/gm: 26.6; Y/gm: 2.8; R: 3; pens: 12
HEAD-TO-HEAD
ALL-TIME (15 meetings): Rapids 2 wins, 17 goals. Sounders FC 11 wins, 29 goals, Ties 2
AT COLORADO (7 meetings): Rapids 2 wins, 10 goals. Sounders FC 4 wins, 11 goals, Ties 1