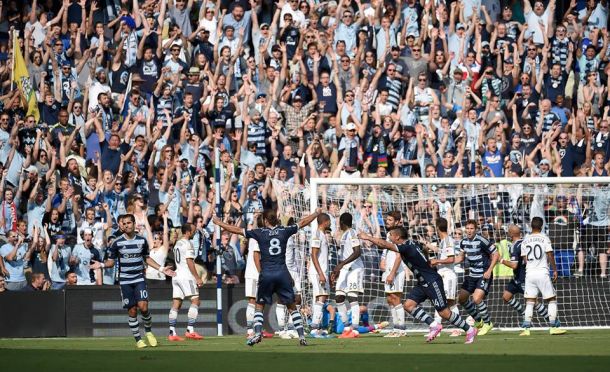 The Los Angeles Galaxy will host Sporting Kansas City at StubHub Center on Saturday night in Carson, California. This will be the first of three meetings between the two teams this season.
Series History
The home side has won all but one match since Sporting Kansas City rebranded in 2011. The lone odd result was a 2-2 draw in Kansas City in 2011. The teams have split the other four games 2-2 with the Galaxy scoring seven goals compared to Kansas City's four. These teams met once in 2014 in Sporting Park where the home side won 2-1. Los Angeles last won 2-0 at home in 2013.
Notable Absences
The home side still has Robbie Keane, Jose Villarreal, and Leonardo listed as questionable for this matchup, but it is likely that Keane and Villarreal both see the field. Villarreal saw action last weekend as a sub while Keane was allowed to rest from a groin strain.
Ike Opara will miss a considerable amount of time for Sporting Kansas City after rupturing his Achilles tendon against Real Salt Lake last weekend. Seth Sinovic and Graham Zusi both missed last weekend's matchup, but are hoping to play in LA. Zusi has returned to full training.
Potential LA Galaxy Lineup
Last weekend the LA Galaxy played a 4-2-3-1 against Seattle and it worked wonderfully. Alan Gordon was solid up top alone without Keane in the lineup. With Keane likely back, Bruce Arena will likely move back the to the 4-4-2 that LA started the season with.
Penedo
Gargan - Goinzalez - DeLaGarza - Rogers
Ishizaki - Juninho - Husidic - Villarreal
Keane - Zardes
Potential Sporting Kansas City LIineup
Ike Opara's absence is the elephant in the room for this game. Can the visitors cover up his absence in the back and find a way to score. Opara is the only Sporting player with multiple goals this season. It is likely that Jalil Anibaba, a natural center back, will slide to the middle and allow Amadou Dia to start at right back.
Sporting has found a midfield trio that can dictate the game with the addition of Servando Carrasco into the lineup. With Krisztian Nemeth and Zusi healthy, the attacking core is back to full strength and ready to go.
Marin
Dia - Anibaba - Besler - de Jong
Feilhaber - Carrasco - Espinoza
Nemeth - Dwyer - Zusi
Keys to Victory
Los Angeles: Long balls. Kansas City has been weak on the counter and susceptible to long passes over the top. Without Opara in the lineup, this will be an even greater weakness.
Kansas City: Find a scorer. The leading scorer for the visitors is a defender who will not be playing. Finding a way to score has to be the number one priority.
Los Angeles: Control the midfield. Sporting still likes to high press and it creates a majority of their offence. Keeping possession in the midfield while setting up the offense will give the home side the upper hand.
Kansas City: Make the most of set pieces. Opara may be gone, but Anibaba has looked dangerous as well. Finishing off a set piece or two will likely see KC to a favorable result on the road.
Match Outlook
Considered two heavyweights in the Western Conference going into the 2015 season, these teams will play like fans expect. Sporting will not look to sit back and Los Angeles will look to strike quickly when space opens up. This game will likely come down to who finishes their chances. If the Galaxy manage to get two goals, they could put the game out of reach for a struggling Kansas City attack. But if the set pieces are working for Kansas City, Penedo could be beaten easily.
Prediction: Los Angeles wins 2-1
Match Facts
StubHub Center in Carson, California is the venue for this Western Conference match. The game is set to kick shortly after 22:30PM ET on MLS Live. Alan Kelly has been assigned officiating duties for this match. Assisting him will be Felisha Mariscal and Mike Kampmelnert. Juan Guzam will be between the benches as the fourth official.