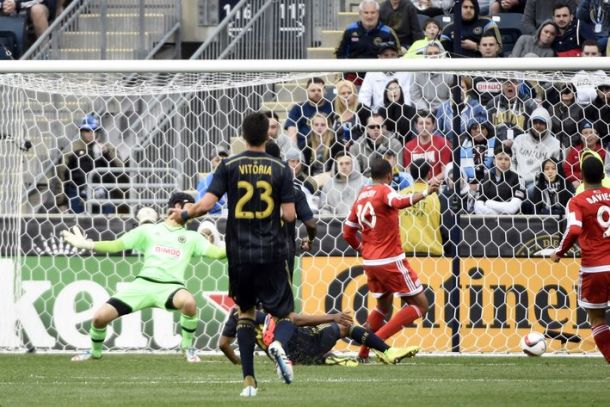 CHESTER, PA- The Philadelphia Union made an effort to climb the standings in the east, but the New England Revolution had other plans. With goals from Teal Bunbury and Charlie Davies, the Revolution best the Union 2-1 in front of the home crowd at PPL Park.
"Obviously a very disappointing result. We let a huge opportunity slip through our fingers tonight." said Head Coach Jim Curtin following the match. "We have to pick ourselves up and look forward to Columbus"
The first 45 minutes would have both sides trying to search each other out with limited action and creating only a few opportunities in the final third. In the 17th minute, the Union nearly open up the scoring with a shot from Fernando Aristeguieta, that hit the crossbar.
The Union would get another chance at goal in the 38th minute via a foul and yellow card from New England's Lee Nguyen, but resulted in a save from GK Bobby Shuttleworth.
In the 40th minute, the Union would strike first via a Maurice Edu break up the middle that resulted in Edu to be fouled and then set up a free kick from Cristian Maidana which was driven to the back of the net to give the Union a 1-0 lead at the half.
In the second half, the missed opportunities would continue for the Union early on, most notably in the 56th minute with a corner from Maidana that missed the goal by a header from C.J. Sapong.
In the 63rd minutes, Head coach Jim Curtin would sub out Sapong and Maidana for Brian Carroll, and Vincent Nogueira to add fresh legs. Shortly after the switch, the Revolution would get the equalizer from Charlie Davies to tie it up 1-1.
The Revs would increase the lead 2-1 with a goal from Teal Bunbury in the 75th minute to increase the pressure on the Union. Another missed chance at goal from a Sebastien Le Toux corner would keep the score line 2-1. In the closing moments, the Union would make continued efforts, but the Revolution defense would have none of it.
"It's been a hard week," said Union captain Maurice Edu in regards to the compressed schedule this week. "All we can do is put this game behind us -we have a big game coming up against Columbus and we have a good week to prepare for that."
With the loss, the Union have fallen to 8th place in the Eastern Conference standings and will travel to Columbus to face the Crew next weekend.