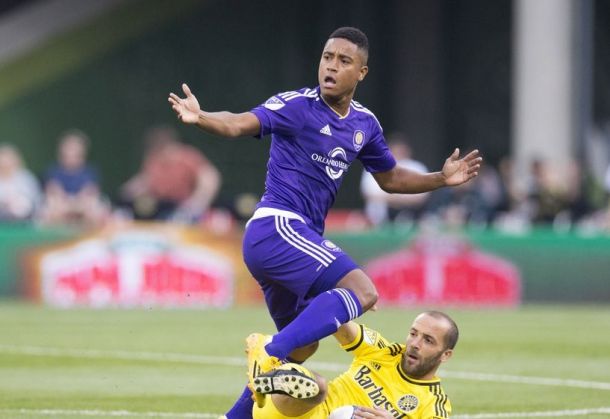 A stunning Orlando City SC squad visited Columbus Crew SC for an Eastern Conference showdown at MAPFRE Stadium. What hoped to be a good match, turned ugly quick and left head coach Adrian Heath and Orlando City shaking their heads. The Lions were defeated 3-0 by Federico Higuain and Columbus Crew SC.
To start, Orlando City held on with Columbus Crew SC in terms of possession of the first half. Momentum started shifting their way when Tony Tchani was whistled for a foul, that set up an Orlando City free kick about 22 yards away from goal. Kaka and Brek Shea stood over; but the insuing shot by Shea was just high over Columbus Crew keeper, Steve Clark. Time went on with both teams making chances. The 18th minute had Columbus Crew supporters wide-eyed when Tony Tchani opened up his fancy footwork and left the ball off to Federico Higuain, who couldn't capitalize by sending the ball high over the net minder of Orlando City, Donovan Ricketts.
In the 32nd minute, Columbus Crew SC opened their scoring book with a cheeky back heel goal by Federico Higuain. The assistor, Ethan Finlay, played a wonderful ball into the top of the 6-yard box that found Higuain, who was able to slot it home with his right heel.
Things got chippy just two minutes later, when Orlando City defenseman Rafael Ramos attacked Columbus Crew defenseman Waylon Francis off the ball. That certainly got the attention of referee Ricardo Salazar who immediately rushed to the scene. Tensions rose and soon enough, there was pushing and shoving. Ramos ran away, avoiding the referee, but Columbus Crew players weren't having it as they stormed Ramos. Hernan Grana was issued a yellow card for argument towards Ricardo Salazar; But Orlando City got the worst of it, when Ramos was issued a straight red card for the challenge. (No official documentation on the foul; Labeled 'Serious Foul.')
The first half ended with Columbus Crew SC on top 1-0, and playing with the man advantage.
Just 10 minutes into the second half, Columbus Crew SC added to their lead with a rocket goal into the upper 90 post by Justin Meram. Although it gave Columbus Crew SC breathing space, Orlando City needed a huge momentum boost to score one back to stay alive. Well, their dreams didn't happen. Just five minutes later, Kei Kamara iced the cake with a chip goal over Donovan Ricketts in the 60th minute.
Another chance came late in the game, when Kei Kamara thought to have scored, but was flagged for the offside. But, after watching again, Kamara never touched the ball; Aurelien Collin just gets a foot on the ball, to send it into his own net. The offsides stood as called, and Columbus Crew SC held on to the 3-0 lead to the end of the game.
What does this mean for Columbus Crew SC?: This important victory now labels Columbus Crew SC as 2-2-2 for the season so far, sitting tied for third place with 8 points. Columbus Crew SC play host again to another Eastern Conference.
Orlando City SC now ends the weekend at 2-2-3. Their next game is taking a trip north of the border to face Michael Bradley and Toronto FC.
"I think, after that period, we didn't have much control of the game" spoke head coach Gregg Berhalter.
Berhalter also spoke on the key to contain Kaka. "We wanted him to play more defensively, keep moving the ball around, not creating a high tempo, letting him use some of his energy on the defensive end."
Goalkeeper Steve Clark mentioned that he "didn't see much of it;" In terms of Rafael Ramos receiving a red card. "I try to stay out of it, of course we need to protect our players, but I think it was a red card yes."
All in all, Columbus Crew SC adds another win to their win column this season, and look to add more with a win against the Philadelphia Union next week.