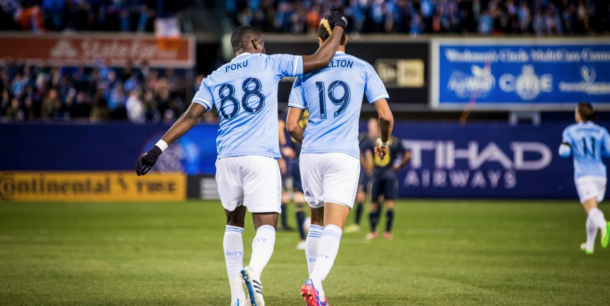 New York City FC play host the Portland Timbers Sunday afternoon at Yankee Stadium. This yearly season match is a crucial one for both clubs that both need a boost with early season struggles.
Portland is coming off a home loss to Orlando City. Orlando dominated the first half possession, scoring on a cross that was badly marked and put in by the Orlando striker.
In the second half, Portland started to regain the possession keeping the ball in Orlando's half for most of the 45 minutes. Kaka scored on a penalty kick late in the 2nd half to seal the victory for the expansion outlet at Providence Park. Portland only has one win on the season so far.
NYCFC on the other hand are coming off a 1-1 draw with the Philadelphia Union on Thursday night at home. NYCFC came out strong in the 1st half but couldn't break through the Union defense. In the second half NYCFC took control with a screamer by Mehdi Ballouchy from outside the box. NYCFC controlled most of the play until around the 80th minute, when the Union started to attack. The Union equalized with 5 minutes to go, leaving New York with the points shared.
NYCFC is not expecting star striker David Villa to play, as he has been nursing an injury he got in preseason. Villa had left the Union match at halftime and did not practice with the club Saturday.
Expect for some of the NYCFC players to get a look as coach Jason Kreis would need to find some resolutions for those currently absent for today's match. Expect Patrick Mullins and Kwando Poku to get a good look. The latter entered the game in the second half against the Union and flashed some of his Yaya Toure-esque potential at Yankee Stadium.
The NYCFC-Portland match is at 7pm EST and can be watched nationally on Fox Sports 1 (unless you have AT&T Uverse).