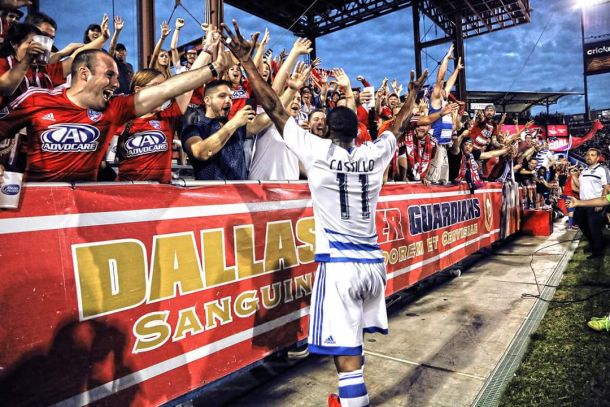 Fabian Castillo, FC Dallas' 22-year old Colombian forward, has just been named MLS Player of the Week for week seven after his two goal performance against Toronto FC. Castillo received 45% of the vote from North American Soccer Reporters (NASR). The panel consists of members of print, television, radio and media.
Castillo got things started early for FC Dallas and their fans. Just 29 seconds into the game, he scored the clubs fastest goal ever and the 16th fastest in MLS history. The play goal would have never come if it was not for midfielder Moises Hernandez. He picked up the ball in his own half and played a brilliant through ball that split the Toronto defense and found a streaking Castillo. Fabian was able to torch right back Nick Hagglund, normally a center back, and chip TFC goalkeeper Joe Bendik.
Not even ten minutes later, Castillo scored again. This time it was assisted by Blas Perez who played a ball behind the defense and found Castillo all by himself on the left wing. Fabian cut inside and curled a shot around Bendik to the far post. It was Castillo's second career two goal game in his brief four year career.
Castillo will be a key member of Dallas' attack this season. He is hoping to reproduce the successful 2014 MLS season he had. Last year he tallied ten goals, a career high, in 27 appearances to go along with four assists. Overall in his career with Dallas, Castillo has appeared in 114 matches and has 23 goals to go along with 18 assists. If he can keep causing havoc on the pitch and run defenders ragged, there is a potential that Dallas could have a very good offensive team. This writer expects to see Castillo's name again when it comes to Player of the Week awards for the remainder of the year and into the future.