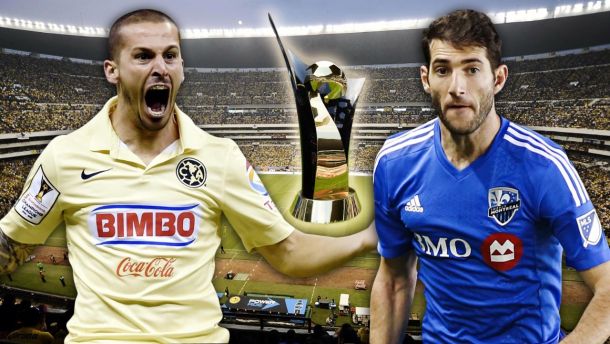 The Montreal Impact will face their biggest test of the year on Wednesday night in Mexico as they face Club America in Azteca Stadium. Playing in Mexico City is tough for any team. The hostile crowd and the altitude combine to make one of the most challenging venues in the world for soccer; at over 7,300 feet high, the stadium sits at one of the highest altitudes allowed for professional play.
Club America won their group with three victories and a draw. They scored 19 goals in total and allowed only three goals total and only one in the Azteca. While 19 goals is impressive, it should be noted that 10 over those came on the road at Bayamon FC. In the quarterfinals they open against Saprissa at home and took a commanding 3-0 lead on the road where they notched two more goals. America won their way into the final in epic fashion. A 3-0 defeat to Herediano in the first leg was quickly avenged at the Azteca as the club scored six times en route to the comeback victory.
Montreal had a bit tougher time getting to the final, although they breezed through their group stage with three wins and a draw and cleared the New York Red Bulls by five points. In those games, they forced six goals while conceding only three. In the quarterfinals, the Impact met Pachuca and managed a 2-2 draw on the road to open things up. The return leg in Montreal nearly put an end to the run, but Cameron Porter's 94th minute goal was enough to punch the ticket to the semifinals. Next up was Costa Rican club Alajuelense. Montreal jumped out to an early lead scoring two goals in the opening fifteen minutes of game one at home. A third goal was added to the aggregate just before halftime of game two and things looked to be nearly sealed up. Alajuelense rallied for the final 45 minutes and scored three times to even things up before Montreal added a second for the game and put the series out of reach. Alajuelense did manage to tie it up on aggregate with a last second goal, but Montreal's two road goals saw them through.
Club America Potential Lineup
There are several possible formations that Club America could use against Montreal in the first leg of the final. They have run a 5-3-2 in two of their last four games, but both times they were playing on the road in the first leg. Being at home and wanting to put the pressure on, this formation will not likely come out. They were able to put two goals on Saprissa with a 3-4-3, but it was the 4-4-2 that pushed them past Herediano with six goals. Below is the lineup from their last game:
Gonzalez
Aguilar - Alvarado - Aguilar - Samudio
Quintero - Martinez - Pellerano - Sambueza
Benedetto - Peralta
Montreal Impact Potential Lineup
Montreal has had success and consistency with the 4-2-3-1 and changes are not expected. Ignacio Piatti, Nigel Reo-Coker, and Dominic Oduro have been fixtures in the midfield and worked well together. Callum Mallace will likely start beside Reo-Coker as a more defensive option when compared to Marco Donadel. Dilly Duka has been a fixture on the wing so far and his attacking presence is greatly needed, but Eric Alexander or Andreas Romero could easily take the spot.
Bush
Cabrera - Soumare - Ciman - Toia
Mallace - Reo-Coker
Oduro - Piatti - Duka
McInerney
Match Outlook
If you ask anyone, this is Club America's game to lose. On paper, they would have to give this game away not to get a favorable result at home. Using the intensity of a sellout crowd and the difficulties Montreal will likely face with the altitude is a must. Montreal has proven they are a capable team, so more than just a victory is needed. At least a three goal lead on aggregate at the end of the game would be ideal for the home side. Montreal has yet to put up three goals in a game in 2015.
For Montreal, this game cannot be about damage control although that is how it will be perceived. Controlling the ball in midfield and pressing forward whenever possible should be the primary game plan. Sitting back is asking to get buried early and will likely leave the team in a hole they cannot dig out of in Canada. A road goal could make all the difference in this series with the second leg being in Montreal. The Impact have played solid team defense throughout the tournament and will need another great performance on Wednesday to keep their hopes alive. The four forward players all work well together and can easily strike on the counter like they have before. Knowing when to break and expend the energy will be key. If Montreal can leave with less than a two goal deficit, it will feel like a win. Scoring multiple goals will give the visitors the edge they need going home.
Prediction: Club America wins 3-1
With a win in CONCACAF Champions League Final, Montreal would be the first Major League Soccer club to win the tournament. Real Salt Lake made it to the final, but were unable to come away victorious. What makes this even more special is that if Montreal were to win, they would do it in front of a sold out home crowd at Olympic Stadium. Major League Soccer fans have all started coming out in support of Montreal this last week. The rivalry Americans have with Mexico does not end with the national teams, it lives on in league play. The extra support can go a long way.