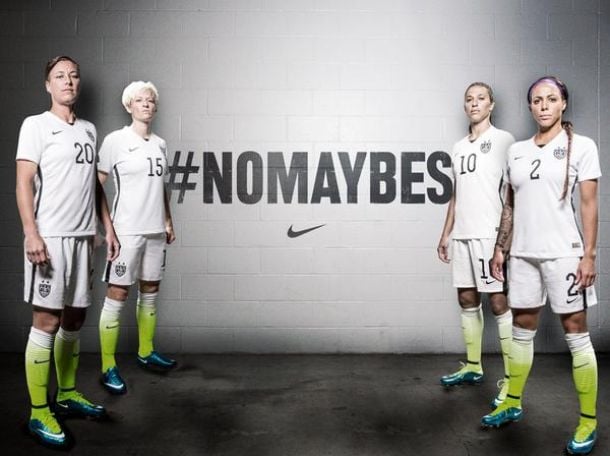 It is truly a sad day for all US Soccer fans. After months of anticipation, the new US Home Kit for the Women's World Cup was unveiled Wednesday afternoon. And the new design is underwhelming to say the least.
Global Creative Director for Nike Soccer, Martin Lotti, claims the new US kits have combined "innovation, performance, and style." Somewhere along those lines creativity must have died too. The Nike tops are plain white with black accents that "accentuate the player's movement." The traditional US Soccer crest and two-star design are found over the upper right quarter of the jersey per usual. Each star represents World Cup victories for the women's side in the 1991 and '99 competitions.
The only obvious American qualities of the new Nike kit are the ombre volt yellow socks paired with Blue Lagoon colored cleats. The cleat pack features the widely popular Tiempo, Magista, Hypervenom and Mercurial styles and their respective stud patterns in a new women-specific fit. One source explains that the Blue Lagoon color way gives "a nod to the famous lakes of 2015 FIFA Women's World Cup host nation Canada," which would be fantastic if the Americans were representing Canada or if the United States had volt-yellow in its flag.
While the new kit certainly breaks away from the former patriotic red-and-white striped U.S Away kit, this is not always a bad thing. Still—having a red-white-blue element to add color to the plain white top would have been nice. While the bottom-up design element of the new kit is certainly gaining all kinds of attention the plain top does make it look like the Nike Design team simply ran out of ideas.
On a side note is impossible to miss the irony in Nike's sock color choice. Fans might remember the FIFA Turf War that made headlines a few months ago, and the green design on the socks must make up for the lack of natural grass to come this summer in Canada. No FIFA approved turf stains socks green.
At the end of the day the real question is will fans pay upwards of $125 for a customized and authentic white shirt with black accents? The only redeeming quality of the new USWNT kit is that it will now be available for purchase in both men and women's sizes, a sizing option that had not been available in the new USWNT away kit.