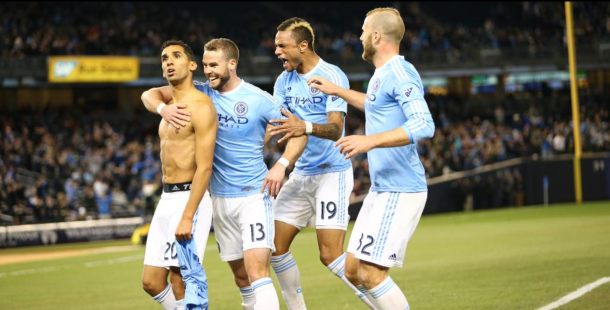 New York City FC (1-3-3; 6 points) travels to Chicago to play the Fire in an Eastern Conference match. New York visits a Chicago team that has not played a match in 20 days, as the Fire host an equally desperate City team. Both clubs have had early season problems with underwhelming performances so far this season.
NYCFC is coming off a 1-0 defeat at home against the Portland Timbers last Sunday at Yankee Stadium. Although NYCFC dominated long stretches of the play during the match, they were not able to find the back of the net. NYC played without injured stars David Villa and Mix Diskerud against Portland. Tony Taylor suffered a season ending ACL injury against Portland.
New York have only 6 points in 7 matches this season. Even though growing pains and slow starts are a normal thing for MLS expansion clubs, NYCFC have also been hurt by injuries.
David Villa & Jason Hernandez didn't practice Friday and are both doubtful for Friday's match in Chicago. Man City loanee Shawn Facey returned to the UK yesterday to attend to a personal matter, and is also out Friday. NYCFC starting goalkeeper Josh Saunders was suspended one match by MLS for a dangerous challenge against Portland. Saunders has started every match for NYCFC this year.
With all of these injuries, suspensions, and other matters that will make many NYCFC players miss Friday's match, it is another opportunity for bench players to play and show coach Jason Kreis what they have to offer.
One of those players is Adam Nemec, who without a goal or an assist yet this year, was benched by Kries against Portland. The Slovakian now has a chance to prove himself to the coaching staff if he gets the nod against Chicago.
Per MLSSoccer.com:
The 6-foot-3 forward has started five matches and played 396 minutes and still hasn't found the back of the net.
"Of course, any one of us would like to score, but sometimes you just don't score," Nemec said. "Sometimes every ball you touch is in the net, sometimes you just don't score from two yards out of the goal. It's just like that. One time you're up, one time you're down."
Coach Jason Kries also spoke to MLSSoccer.com about Nemec's struggles early in the season:
"Having been a striker you go through patches where it seems you can't hit the side of a barn and you go through patches where everything wants to go into the net for you," Kreis said. "I think unfortunately for us we have a lot of guys right now who are having a bit of a difficulty getting the ball over the line, between the posts. But I feel like if we get one, we're going to get a bundle."
Beside Nemec, one might expect Patrick Mullins to start up top with Khiry Shelton. Kwadwo Poku has been tipped to start by many NYCFC supporters, but expect only to enjoy #PokuTime as a substitute in the second half.
NYCFC Tidbits:
-New York City FC comes in at #17 in this week's MLS Power Rankings on MLSsoccer.com.
-NYCFC and Chicago (1-3-3) currently stand tied for sixth in the Eastern Conference standings with six points apiece, but the Fire have two games in hand on their upcoming opponent with only five matches played.
-Fire legend and NYCFC coach CJ Brown returns to Chicago.