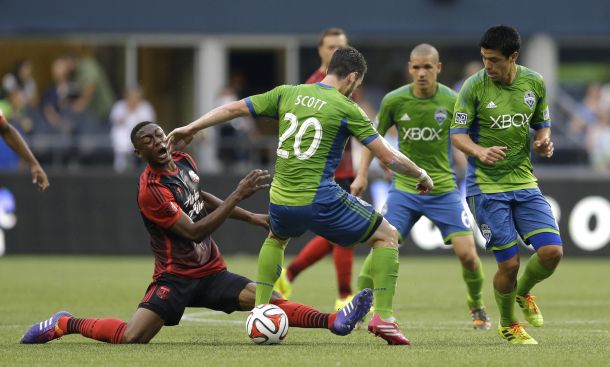 It's no secret. The Portland Timbers and the Seattle Sounders don't like each other very much. After all, it's a feeling deeper than hate.
This will be the first meeting of the 2015 MLS season between the Timbers and Sounders. Both teams are coming off much needed wins from the previous weekend. The Sounders are coming off a 3-1 road win over the Colorado Rapids. Seattle was lucky to win that match with all the chances that the Rapids had throughout the game. Portland is coming off a 1-0 win over expansion side New York City FC at fabled Yankee Stadium.
The Sounders currently sit above the Sounders in the standings, but a win by the Timbers in Seattle would catapult them past them. So much is on the line with these two teams. Early season standings, bragging rights and an upper hand in the Cascadia Cup standings.
Here at Vavel USA, we thought it would only be fitting to reach out to two writers that cover these teams day to day and asked them a few questions. First up is Jaime Goldberg who covers the Timbers for the Oregonian.
Vavel: Is the 2015 Timbers team better than the 2014 Timbers team at the same point last year? What has been the biggest difference?
Jaime: Yes, this Timbers team is much better than last year's squad at this point in the season. Last season, the Timbers managed to earn just five points in eight games. This year they already have nine points in seven games. A major reason for the improvement has been the Timbers defense. Though the Timbers have had a few defensive lapses this year, they've benefited from the additions of Nat Borchers and Adam Kwarasey and are a much better defensive team this season.
Vavel: It seems that Portland has struggled at times to score as well as play solid defense. What seems to be the problem? Is it the fact that Diego Valeri and Will Johnson are not in the lineup?
Jaime: I think overall the Timbers defense has been very solid this season. There have been a few lapses, but, for the most part, defense had been one of Portland's strengths. In terms of the offense, the Timbers have really been missing Will Johnson and especially Diego Valeri. Valeri ran Portland's offense last year and the Timbers are a much weaker attacking team without Valeri.
Vavel: What is the status update on Valeri and Johnson? Is their recovery on schedule for both players?
Jaime: Valeri and Johnson are both back in full training. Johnson is going to be likely getting some minutes with the Timbers USL team, T2, this weekend. Valeri is expected to start being used off the bench and slowly start reintegrating into the lineup in the next few weeks. Both are pretty far along in their recovery and I expect they will both be in the lineup sometime in May.
Vavel: Who has been the Timbers best player to this point in your opinion and which player should the Sounders keep an eye on the most this Sunday?
Jaime: Darlington Nagbe. While Nagbe hasn't replaced Valeri, he has been incredibly dangerous in the Timbers attack this season and has been the key player setting up plays and creating chances for Portland.
Vavel: Lastly, who do you have winning this match? Road team has only won twice in 11 meetings, both being Seattle. Do the Timbers have what it takes to win in Seattle for the first time in the regular season?
Jaime: You never know what's going to happen, but this is going to be a tough match for the Timbers. A tie would be a good result. A win would be a great result. Still to earn any points in Seattle, the Timbers will have to have a very strong defensive game and it certainly won't be easy.
Next, we reached out to Matt Pentz over at the Seattle Times to get his take on the upcoming match between the Sounders and Timbers.
Vavel: Is the 2015 Sounders team better than the 2014 Sounders team at the same point last year?
Matt: I'm going to be diplomatic and say the Sounders are in just about the same exact point as they were a season ago. Lineups and results have been varied, and the team's long-term prognosis skews wildly from week to week. They're an early-season team, in other words. In theory, this year's team should have had a firmer grip on their identity than last year's given the relatively lack of turnover. But given the injuries and international call-ups, it's still too early to tell.
Vavel: It seems like you never know what you are going to get with Seattle's defense. One week they play great and the next they look like a sinking boat with holes. Why can't they find consistency?
Matt: One of the reasons is the fluctuating quality of the attacks the defense has been facing. Sure, it looked solid against Houston -- but the pre-Cubo Dynamo just isn't all that threatening. The other is the lack of familiarity. The Brad Evans Experiment is still very much a work in progress. It takes time to build the bonds and understanding that beget consistency.
Vavel: With Chad Marshall receiving a one game ban, how much of an impact will it have on the match this Sunday?
Matt: Marshall's suspension is a definite blow to a back line that, as you alluded to, still has plenty of questions to answer. It's most significant impact may be to nudge Portland out of the defensive shell it has turned to at times this season in the absence of Will Johnson and Diego Valeri.
Vavel: Who has been the Sounders best player to this point in your opinion and which player should the Sounders keep an eye on the most this Sunday?
Matt: Obafemi Martins has been the Seattle's best player, and I don't even know if it's close. His four goals so far -- tied for second-best in MLS -- have been invaluable. As far as a Timber to watch, keep an eye on Darlington Nagbe. The Portland attacker has been rounding into the type of form that eluded him for much of last season and that can single-handedly swing games.
Vavel: Lastly, who do you have winning this match? Road team has only won twice in 11 meetings, both being Seattle. Do the Timbers have what it takes to win in Seattle for the first time in the regular season?
Matt: With the standard caveat that predicting MLS results at this time of year is an exercise in futility, I'm going Seattle 3, Portland 1. Recent results in this series have tended to tilted toward the better team -- and as simple as that may sound, in this league, it's not. Right now, with the Timbers still wracked by injuries, the Sounders are the better, more complete team.
Vavel USA would like to thank both Jaime and Matt for taking time out of their busy days to answer a few questions for us. Yours truly appreciates it very much.
This match will be nationally televised and can be seen on Fox Sports 1. Kickoff is scheduled for 9:30pm EST. Enjoy the best rivalry in MLS, this writer will.