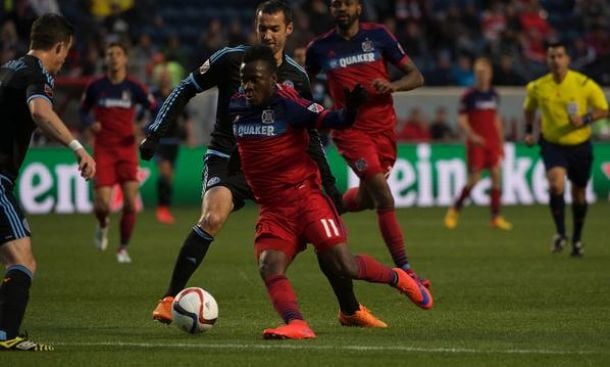 They say that winning doesn't have to be pretty. If you watched the Chicago Fire's 1-0 victory over New York City FC, you'd agree that not only does winning not have to be pretty but football doesn't have to be pretty. This was a match which will be remembered for the same reason a popular football follies DVD is. The DVD in question went by the name of "Gaffes and Goals", and shockingly featured a number of sublime goals and catastrophic collapses. The next edition of it will just be a recording of Friday evening's match.
Neither side played well, although Chicago were decidedly the better team and deserved their victory. They began the game in the ascendency, and put NYCFC on the back foot from the get-go. After an early half chance off a corner saw Jeff Larentowicz's header easily saved by Ryan Meara in the ninth minute, the Fire came desperately close to opening the scoring in the 15th minute after a gaffe.
Blues and USMNT midfielder Mix Diskerud, attempting to play out of the back, saw his pass deflected right into the path of David Accam 30 yards out from goal. Accam slalomed through the City defense, beating four men off the dribble before attempting to shape a shot inside the far post. It was inches away from being a contender for MLS Goal of the Week, but instead caromed back off the post.
Diskerud very nearly attoned for his error in the 19th minute, when he almost made Harry Shipp pay for a gaffe. Shipp has been Chicago's best player thus far in 2015, but he gave the ball away with a mishit pass directly to the feet of Diskerud in acres of space just 25 yards from Sean Johnson's goal. The former Rosenborg man sized up his options before pulling a shot wide of Johnson's post.
Just one moment later, yet another gaffe would gift Chicago the game's only goal. Goodness only knows what Ryan Meara was trying to do, but it appeared he was attempting desperately to keep the ball from running out of play for a corner kick. In the process, he fell down out of bounds and practically handed the ball to Accam just 15 yards away from goal with an empty net. The Ghanaian took two dribbles to settle himself before drilling the ball into the open onion bag to hand Chicago a deserved lead.
Said lead would become insurmountable four minutes later when Andrew Jacobson was handed a straight red card for denying Accam a clear goal scoring opportunity. One of the match's few silky passing movements saw Adailton, Accam and Guly Do Prado combine before the Do Prado slipped Accam in on goal. He beat Jacobson to the ball and was certain to be in 1-on-1 with Meara when the defender hacked him down. There was no doubt in the referee's mind as to the decision, and a straight red was given.
Up both a man and a goal, Chicago continued to exert dominance over the game and really could have won 4-0 or 5-0. However, a combination of poor finishing and some superb play from Meara kept it tight. His first great save came from the ensuing free kick after Jacobson's red card. Larentowicz, Shipp and Shaun Maloney worked a little free kick routine which ended with the club captain having a hit from 30 yards out. It took a slight deflection off Ned Grabavoy, and Meara had to do really well to readjust his body and hold the strike.
In the second half, the Fire continued their search for a second goal. They nearly got it through Shipp in the 51st minute. A lovely reverse ball from Joevin Jones played him into the box, and, looking much more like the normal Harry Shipp, he proceeded to beat two players off the dribble. However, with just Meara to beat from a tight angle, he could only slam the ball against the near post.
Chicago kept piling on the pressure, and Meara was again called into action in the 63rd minute. Some lax defending saw a half clearance find Accam in all sorts of space on the edge of the box, and he steadied himself before powering a low drive to the keeper's left. Once again, Meara was equal to it and did really well to palm the ball out for a corner.
In the 78th minute, Meara again came to the rescue when Matt Polster lined up a dipping, swerving strike from distance which the keeper could only tip over the bar. However, that was just an appetizer for a dazzling trifecta of saves in the 83rd minute. First off, Maloney clipped a delicate ball into the box which Accam got to with a diving header. It seemed destined for the far corner before Meara stuck out his left foot and sent it wide of the post. From the ensuing corner, he produced a stunning double save, first from a powerful downward header from Matt Watson and then from a swerving volley from Polster.
In spite of Chicago outshooting NYCFC by a margin of 24:8, having three more shots on target, 16% more possession and 132 more completed passes, Meara stood on his head to keep the match close. Although one must keep in mind the manner in which the Fire scored, those stats do tell a true story of the game and they were well deserving of their win. With the result, NYCFC remains in seventh place in the Eastern Conference on six points while Chicago momentarily moves up to fourth place in the East on nine points, just two behind the leaders. NYCFC will next be in action on Sunday, May 3rd when they host the Seattle Sounders while the Chicago Fire will next be in action on earlier in the day on May 3rd when they travel to Sporting Park for a derby match against Sporting Kansas City.