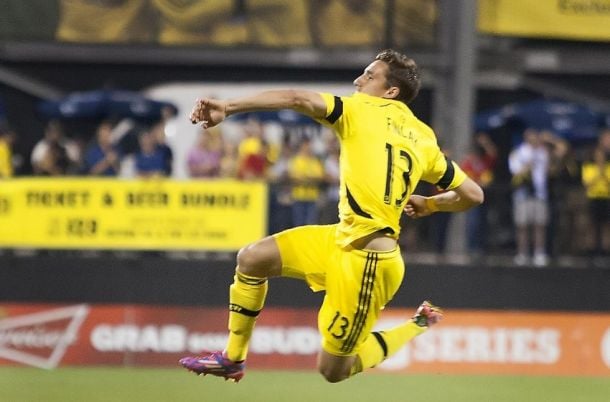 Ethan Finlay, 24, scored his first ever brace in MLS this past weekend. He also added an assist in the Columbus Crew's dismantling of the Philadelphia Union at MAPFRE Stadium this past Saturday. The win pushed the Crew to fourth place in the Eastern Conference with a record of 3-2-2 (W-L-T) which is good for 11 points.
Finlay helped open the scoring in the 21st minute with a cross from the right to Kei Kamara. In the 32nd minute, Finlay scored his first goal of the game after a one-touch finish after receiving a pass from Waylon Francis. In the 73rd minute, Finlay finished off the scoring on the night for the crew. Kamara played a through ball to Finlay and he was then able to slot it past the Union goalkeeper to secure his brace.
Since scoring the first goal of his career on May 17, 2014, Finlay has 13 goals. Only six other players in MLS have more goals in the last year. Those players are Bradley Wright-Phillips, Obafemi Martins, Dominic Dwyer, Gyasi Zardes, Robbie Keane and Lee Nguyen. That's an impressive list of players that he is part of and shows the true potential of Finlay. It also explains why he was given a contract extension towards the end of the 2014 MLS season.
Here is what Head Coach Gregg Berhalter has to say about Finlay, "I think this was a case of, from the outside, the perception might have been that he's not at the top of his game and Ethan has been working so hard. Internally, we have been happy with how he has been playing and we knew that he had it in him. We talked to you guys that he is ready for a breakout because he has been training really well and having impacts in the game."
In regards to scoring the first brace of his career, here is what Finlay had to say; "It felt great. Some might call it a relief, but I knew [the goals were] coming and it just feels good to get them, getting the first one and the second one out of the way. What's better is kind of how we scored those goals tonight. The movement was fantastic and the movement through the midfield, through the backline and then the end product. We were spot on tonight. We probably could have had a couple more, so we are extremely happy with that."
The MLS Player of the Week is selected each week of the regular season by a panel of journalists from the NASR. The group consists of members of print, television, radio and media.