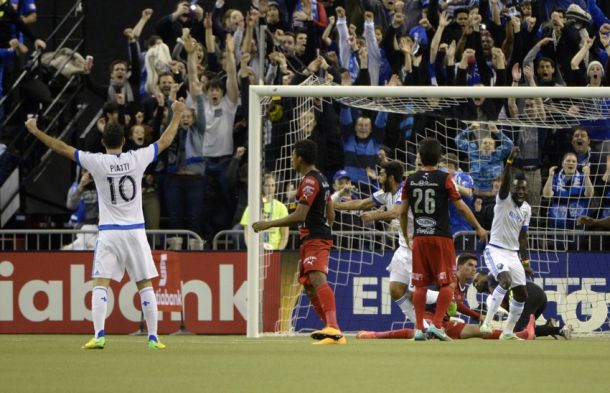 On Wednesday night at the Olympic Stadium in Montreal, the Montreal Impact have a chance to make history by becoming the first MLS team to win the CONCACAF Champions League in its current format. They are in a fantastic position to do so, after a terrific performance last week at the Estadio Azteca earned them a 1-1 draw with Club America in the first leg. The Blues know that either a victory tonight or a 0-0 draw will be enough to see them lift the cup, and their run has captivated all of American and Canadian soccer.
Major League Soccer is completely behind the Blues, and for the past couple of weeks have been incessantly tweeting with the "#MLS4MTL" and "#MLS4Montreal" hashtags. Regardless of who fans support, all MLS supporters have united behind the Impact. Montreal is abuzz in preparation for this match, a colorful full-crowd mosaic is planned for it and they are about to set a Canadian attendance record for a soccer match with 61,004 tickets sold. It feels as if tonight could be a pivotal moment for MLS, like this is the day the league has been waiting for for quite some time. However, let's take a moment to ask ourselves this: what does Montreal winning the CONCACAF Champions League mean for MLS?
As much as MLS fans may like to delude themselves, MLS is not the best league in North America. No, that honor belongs to Mexico's Liga MX. Top to bottom, it's a better league. There are more quality players, better attendance and higher salaries. Yet, over the last 10 years MLS has been steadily closing that gap and tonight could mark a changing of the guard.
Although Club America sit in just seventh place in the Liga MX table, they are one of the oldest and most succesful teams in Mexican history. Los Águilas were founded in 1916, only two years after the Lamar Hunt US Open Cup was first contested. Club America are 12 time champions of Mexico, more than any other Mexican club and are the reigning champions of Mexico.
By contrast, Montreal have never made the MLS Cup playoffs, and are currently bottom of MLS with just two points from four matches. Granted, they have played far, far fewer matches than any other team in the division because MLS wanted to give them every advantage in this competition. However, if the team who are bottom of MLS can beat the reigning Liga MX champions to be crowned the best team in North America, doesn't that say something fantastic about the quality of MLS?
The worst team in a supposedly inferior league is able to overcome the most decorated team in Mexican history who also happen to be defending champions. If that doesn't signal a shift in the continental balance of power, this writer does not know what would. Montreal has an incredible chance on Wednesday evening of comprehensively showing that MLS is the top league in North America, and isn't too far from being able to compete with the top leagues in the world.
Speaking of competing with the top leagues in the world, the winners of the CONCACAF Champions League advance on to the FIFA Club World Cup. The Club World Cup may be derided in some circles (see all European fans and American Eurosnobs), but it's a fantastic chance for teams from outside of the UEFA Champions League to showcase themselves on a massive stage. Should Montreal win on Wednesday evening, they would have a chance to be matched up with the likes of Barcelona, Bayern Munich, Real Madrid or Juventus. While even the staunchest proponent of MLS would agree that an MLS team is quite some way from being able to knock off the reigning UEFA Champions League winners, if they were able to hold their own against a European superpower, imagine what that would do for the worldwide perception of the league.
On Wednesday night, Montreal is playing for themselves, for MLS, for both Canada and the United States, and for North America. Given how quickly soccer is becoming more and more popular in the United States, it's just a matter of time until MLS becomes a dream destination for all players. On Wednesday, Montreal has a chance to bring MLS much closer to being that destination league.