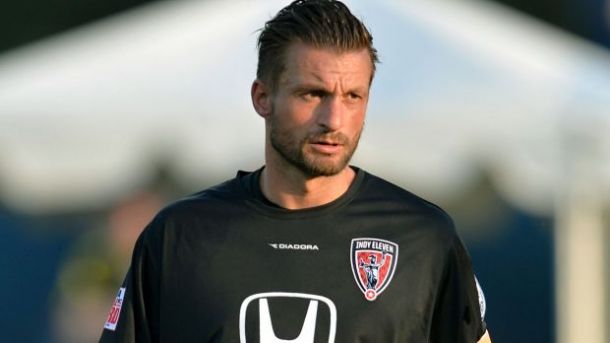 It's hard to imagine that one week you are in a bar watching the first leg of the CONCACAF Champions League Final and the next week you are starting goalkeeper for leg two. That is exactly what has happened to Kristian Nicht. Last Wednesday, he sat in a bar in Indianapolis to watch the first leg of the final alone. The next thing he knows, he has been tabbed to start the biggest game in the history of the Montreal Impact.
The last four months have been up and down for Nicht; "Everything that's happened between me and Montreal in the last four months was always kind of crazy and kind of short notice. I'm kind of getting used to it, getting calls from Montreal saying, 'Listen, get ready for us.' I can pack my luggage pretty quick by now. Business as usual."
The Impact announced on Monday that the transfer of the veteran goalkeeper from NASL side Indy Eleven. You may ask why the sudden change at the goalkeeper position? Well, starting 'keeper Evan Bush has been suspended after picking up his second yellow card since the semifinals and backup Eric Kronberg is cup-tied with Sporting KC.
Nicht feels that he can do the job and help the Impact become the first MLS team to win the CONCACAF Champions League under its new format, "I'm very confident that I can do the job. I don't know what'll happen tomorrow. I don't know who will be starting. There's a couple of videos on YouTube."
The sudden addition of Nicht doesn't seem to make a difference to center back Bakary Soumare, "When we played our first game in Pachuca, we hadn't played a competitive game together. There were [Laurent] Ciman, [Donny] Toia, [Victor] Cabrera; all four of us, we had never played together. It happens in soccer. It's part of soccer. It's part of the beauty of sport. But it's still football. It's a goalkeeper. I don't know who will play, but any of the two that plays tomorrow, we trust him and it'll go well."
This writer can only imagine the pressure and stress that Nicht must be feeling regardless of what he has been saying in interviews. He is familiar with the team, so that will help some. If he is ever going to have the game of his career, Wednesday is the time to do it for the city of Montreal and all of MLS.