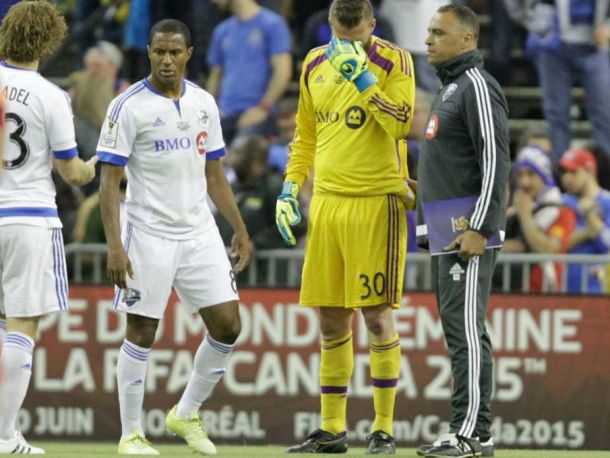 There is a term that floats around Major League Soccer communities that perfectly describes the situation in the CONCACAF Champions League Final. That term is "CONCACAF'd". Fans of MLS or MLS teams that have played internationally have likely heard this term. The definition is simple. CONCACAF'd is the word used to express the act of an official showing bias towards the more powerful team that should win the matching, typically a Liga MX team. It can also be used to explain away an obviously poor officiating decision that makes absolutely no sense. In most matches, poor calls balance out, but in CONCACAF play, that's not always the case. Montreal was CONCACAF'd, in every sense of the word, four times in their final CCL series against Club America.
The massive underdog Montreal Impact scored first in the opening leg against the run of play. Just before halftime, Dominic Oduro looked to be free with just the keeper to beat to double the lead. Instead, he was tugged down from behind by the shirt by the only defender within reach. According to the laws of the game, that is clearly Denial of An Obvious Goal Scoring Opportunity and must be punished by a straight red card. Instead, a yellow was shown. To further complicate this, all of the stoppage time was used to set up the free kick for the foul and the ensuing corner was not allowed to be taken. Clearly something was missed. CONCACAF'd!
Just after halftime, Ignacio Piatti was raked across the thigh by the studs of a Club America player who came in late. Typically, studs above the knee is at least deemed reckless and worthy of a yellow card, and easily can be seen as dangerous play or violent conduct and given a red card. But for all of Piatti's pain, play was allowed to continue. If the missed call wasn't enough, the official stopped play a moment later to check on the injured Piatti. This is mistake number two. A referee is instructed to only stop play if the injury appears to be a head or neck injury or the players is in the line of play. Piatti was down well behind the play holding his leg. It's hard to read an official's mind, but stopping play for that is likely a sign that something was missed and checking on the player was consolation. CONCACAF'd!
In the second leg, Montreal again struck first against the run of play. This goal came even earlier in the game that the previous one. Montreal absorbing pressure and counter attacking had worked throughout the knockout stages and appeared to have Montreal on the verge of their first continental trophy. Club America had one response, and that was to commit tactical fouls. Dominic Oduro and Ingacio Piatti were both taken down multiple times by late tackles as an attempt to stop promising counter attacks. There were two instances where the tactical fouls were so egregious yellow cards should have been shown, but since the offending players were already booked for tactical fouls, the referee decided to hold back and be lenient. CONCACAF'd!
When it comes to matches with this much importance, officials don't want to be the center of attention. It's never a good thing when the highlights center around the decisions made by the whistle instead of the play on the field. CONCACAF officials may be taking this a bit too far. Their inaction on such important, and often times obvious, plays brings the spotlight back to them. In this series, it is fairly clear that America could have easily been shown red cards at four different instances.
It should be noted that Michael Arroyo had a goal disallowed for offsides that was far too close for the call be definitive. Typically calls that close go in favor of the offense. This incident was not as clear cut as the others, but still a major turning point in the series. Marco Donadel could also have seen an early yellow in the second leg for Montreal after several late fouls. He was not shown a yellow in the match, so a sending off would not have been an outcome, but an early yellow can completely change how a player reacts in a game.
This phenomenon is in no way an excuse for why a team losses in CONCACAF play or an attempt to argue that a different outcome would have occurred with proper officiating. If any of the above instances had been justifiably punished with a red card, the complexion of the game and series would have shifted and the concurrent incidents may or may not have happened. Arguably, Montreal would have retained the lead in the first leg if either or both red cards had been shown and America would have been short a starter or two for the second leg. In the second game, America being down a man or two heading into the second half would likely have resulted a lot more balanced final 45 with a frantic finish as both teams looked for a winner.
It is unclear if the outcome of the series would have changed in Montreal hadn't been CONCACAF'd by the officials. Club America is still one of the best teams on the continent and easily capable of putting up multiple goals against any MLS roster while playing with 10 men. Had the calls been made in the first leg, the stellar final 45 minutes may have actually happened just like it did. Montreal was tired from 135 minutes of hard defense and the depth wasn't there in the absence of Evan Bush, Hassoun Camara, and Victor Cabrera. If the calls had been made in the second game, a 2-2 aggregate draw is a very likely scenario with a wide open extra period being necessary for a decision.
Overall, fans of Montreal Impact, Major League Soccer, and CONCACAF play were all cheated out of what could have been one the most epic finals finishes the tournament could ever see and quite possibly one of the biggest upsets as well. No one wants to see a game decided by the officials, and this series has that taint on it. CONCACAF has a lot to work on going forward. This was not a one time occurrence, this is a trend.