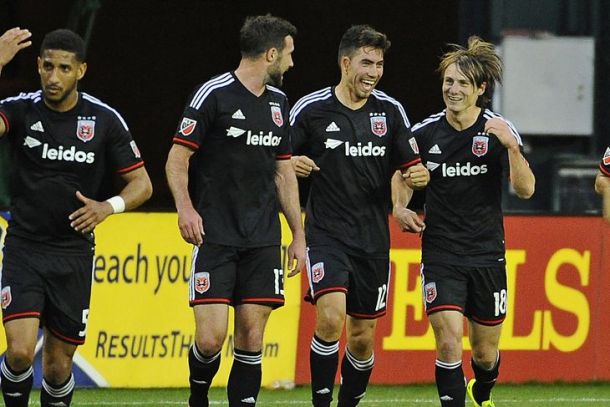 Undefeated in the month of April, Columbus Crew SC travel to the nations' capital to take on DC United, in hopes ot keep their undefeated streak alive. On the flipside, DC United look to spoil their parade, and keep their own undefeated streak alive. Can one team emerge victorious, or will they settle for a dreaded draw?
Columbus Crew SC take on DC United sitting in 4th place with 11 points, and a 3-2-2 record. They are undefeated in their last 4 matches, which inlcude a 2-2 draw against the Vancouver Whitecaps, a 0-0 draw against New England Revolution. And impressive wins such as a 3-0 win over Orlando City SC, and an annihilating 4-1 victory over the Philadelphia Union. Getting eight points 12 in a span of four games, thats quite impressive. Leading Columbus Crew SC to their success is a montage of players, starting with Kei Kamara and Ethan Finlay. Leading Columbus Crew SC in goals is the striker Kei Kamara with 4 goals. He also sits second amongst MLS leaders. Ethan Finlay leads the team in assists, with 3, including one in the last outing against Philadelphia Union.
Of course, you can't leave out the presence of Justin Meram and Federico Higuain. Or defensemen Waylon Francis. These players are just the main focus points in Crew SC's recent success. It noticable, and it has to be recognized. Containing these particular players on the pitch will be tough, and that's just what they want. Head coach Gregg Berhalter spoke on Ethan Finlays recent performance: "I think this was a case of, you know form the outside. The perception might have been he's not at the top of his game, and Ethan's been so hard, and internally, we've been happy with how he's playing."
"We have that mentality, one game at a time" spoke Gregg Berhalter on if the team can keep the momentum going, heading into this weeks clash against DC United.
Althought it may be selfish, this is one major key that Columbus Crew SC can use in order to advance past, and come out with three points on Saturday.
DC United sit tied for first place with New York Red Bulls, at 14 points, and a 4-1-2 record. Their recent outing resulted in a 2-1 victory over the Vancouver Whitecaps at BC Place in Vancouver, British Columbia. With goals from Bobby Boswell, and Chris Rolfe, they were able to seal the victory against the Eastern Conference leading Whitecaps. Other key victories for DC United are 1-0 over the LA Galaxy, 1-0 over Orlando City SC. And key draws against rivals New York Red Bulls (2-2) and 1-1 against the Houston Dynamo.
Leading the way is Chris Rolfe who leads the team in goals (2) and assists (2).
DC United are without two veteran players in Eddie Johnson, whos ruled out due to a heart condition, and GK Bill Hamid who's out with a knee injury.
One key to win against Columbus Crew SC is to tame Ethan Finlay and Kei Kamara. Putting those two players on lock can change the playing field and frustrate the opposition.
Projected Lineup: DC United (4-4-2)
Worra;
Franklin--Boswell--Opare--Korb
Deleon--Kitchen--Farfan--Pontius
Espindola--Rolfe
Projected Lineup: Columbus Crew SC (4-2-3-1)
Clark;
Francis--Pogatetz--Parkhurst--Grana
Saeid--Tchani
Finlay--Higuain--Finlay
Kamara
REFEREE: Baldemero Toledo
AR1: Kermit Quisenberry
AR2: Kathryn Nesbitt
4th: Edvin Jurisevic
Prediction: Both teams are undefeated for the month of April, and looking to continue their success. Columbus Crew SC will emerge victorious
Columbus Crew SC 2-0 DC United