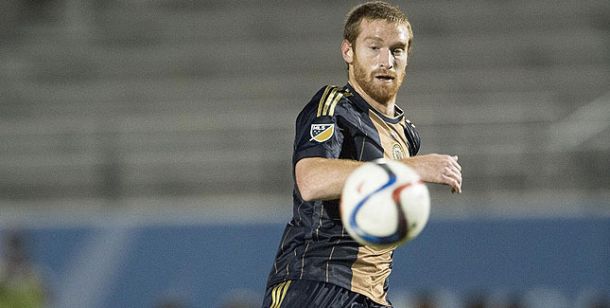 Two teams that have struggled to begin the season will face off at PPL Park on Saturday when the Philadelphia Union take on Toronto FC. The Union are 1-5-3 and currently in 9th place while Toronto FC is 2-4-0 in 7th place in the Eastern Conference. The Union are also coming off of a disappointing result at the hands of the Columbus Crew SC last weekend, where the players were so frustrated they did not even acknowledge the fans who traveled to Columbus.
However, Jim Curtin stated in his press conference this week that the result in Columbus is unacceptable and that they will be working on what went wrong for the game against Toronto. Like the Union, Toronto seems to have issues with keeping possession and getting the ball to the bigger name players who are the key to their offense. With that being said, the Union could potentially have an easy win on their hands, although this writer feels that just because they "should" doesn't mean they "will".
They will have to do some things better than they did in Columbus, and will have some help returning to the team to assist in that. Zach Pfeffer missed last match due to his call-up for the United States U-20 Men's National Team camp in Austria, which forced Curtin to insert Michael Lahoud and Brian Carroll into the starting XI (Vincent Nogueira did not travel with the team due to injury). Even if Nogueira cannot play Saturday, the fact that Pfeffer is back will help in the midfield and bring a much needed second half substitution back to the bench in either Carroll or Lahoud.
The main thing that has been plaguing the Union which needs to be fixed desperately is the connection between defense and the midfield and also the defense and goalkeeper communication. This writer feels that while John McCarthy has been better than Rais M'Bolhi was at keeper, McCarthy still has a bit of a learning process and is prone to mistakes. This writer also feels that when Andre Blake is fully healthy, he should be the starter since he has a bit more experience than McCarthy, who is just a rookie. Changing that one position is not going to change everything, but either there needs to be a goalkeeping change or McCarthy needs to show more authority and voice what he needs. Sometimes when he comes out to try to make a save, he comes out with that authority, but at other times he comes out very timidly.
This writer feels that the game Saturday is a very winnable one for the Union if they can keep possession and strike early and often and not "park the bus" too early and try to play for the draw. Also of interest is the fact that the goalkeeper for Toronto FC on Saturday will be former Union goalkeeper Chris Konopka, as Joe Bendik did not travel due to injury. A few injuries which could potentially hurt the Union's chance of winning this game would be the injuries to Steven Vitoria, Brian Carroll, Fernando Aristeguieta, and Vincent Nogueira.