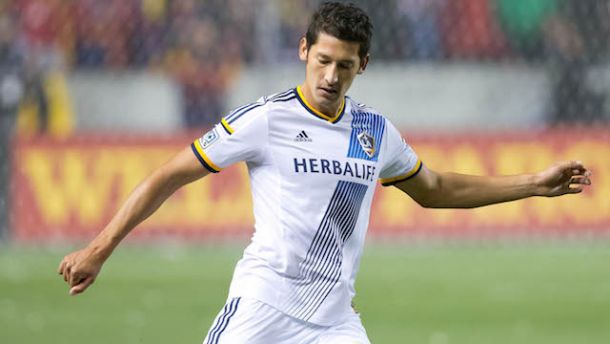 Week 9 of Major League Soccer fantasy saw offense power leading the way yet again. The only defender to headline the week did so with the aid of a goal and offensive bonuses.
Key Players in Week 9
Sean Franklin - DC United: This United defender did it all for DC this weekend. Franklin's goal, clean sheet, attacking and defending bonus all off set his yellow card. He edged out all competition to land the top spot for the week with 15 points.
Fabian Castillo - FC Dallas: Castillo earned the second spot on the list with 14 points. With two assists and a goal, he led the charge in taking down Dallas' rival the Dynamo in Houston.
Obafemi Martins - Seattle Sounders: With two goals and an assist, Martins was involved in every scoring play for Seattle against New York City FC. His 14 points tie him with Castillo in second place.
Mauro Diaz - FC Dallas: Diaz was the other half of the equation for Dallas against Houston. With two assists and a goal, he earned 13 points over the weekend.
Honorable Mention: Gabriel Torres - Colorado Rapids: Torres scored two goals in two games last week and tallied 14 fantasy points. His performance was crucial as he earned a pair of draws for Colorado.
Players Unavailable in Week 9
David Accam – Chicago Fire: Red Card
Kwame Watson-Siriboe – New York City FC: Red Card
Players on Yellow Card Warning
None of the four players on warning last week received their fifth yellow of the season. One more and the player will be suspended for a game.
Kendall Watson – Vancouver Whitecaps
Damien Perrinelle – New York Red Bulls
Omobi Okugo – Orland City SC
Alvas Powell – Portland Timbers
Maurice Edu – Philadelphia Union
Teams on Bye
None
Injury Watch
Marcelo Sarvas - Colorado Rapids: Out - Knee Surgery
Bill Hamid - DC United: Questionable - Knee Injury, Missed several games
Robbie Keane – LA Galaxy: Questionable – Groin strain. Missed several games
Tony Taylor - New York City FC: Out - ACL Rupture
Drew Moor – Colorado Rapids: Doubtful – Knee injury
Lee Nguyen – New England Revolution: Questionable – limited training
Javier Morales - Real Salt Lake: Probable – Back to training
For a full list of injuries, please check out Homar Hernandez's full analysis here.
Week 10 Breakdown
Houston hosts San Jose on Tuesday night for the first game of two for each team this week. This is a massive tossup as both teams have excellent young keepers, adequate defenses, and potent offenses on a good day, but can easily slip into a poor performance
Real Salt Lake will host the defending MLS Champion LA Galaxy on Wednesday for the first of two games for the week. This Western Conference matchup could get heated as both teams look to solidify their place in the standings.
Friday night starts with a game that could see lots of goals. Orlando City SC will be in New England for a late game.
Following Orlando versus New England on Friday is Colorado hosting San Jose. Colorado's defense has been stellar this season and San Jose struggled to score. This could be another shutout for the home side.
Real Salt Lake's second game will take place in Chicago on Saturday. Tired legs and a short roster will likely see the visitors pack it in and play conservatively. Chicago doesn't appear to have the team to break that down this year. Defenses will be big in this game.
Montreal will be back in MLS action for the first time in a month as they host the Portland Timbers. This will be Montreal's second game in four days as they play in the Canadian Championship on Wednesday. Both sides boast speedy midfields that can strike on the counter, this game could open wide up very early on.
DC United will host Sporting Kansas City on Saturday. Sporting's defense is slowly recovering from the loss of Ike Opara while DC's offense has been rejuvenated by the inclusion of Fabian Espindola. Both sides are more than capable of winning this game, but both could easily fall apart as well.
League leading Vancouver is currently tied with FC Dallas. A win against Philadelphia this weekend will help them keep pace with their Western Conference foes. Philadelphia's -8 goal differential is worst in the league and Vancouver's offense can easily increase that.
The biggest matchup of the week has to be Columbus hosting Seattle. These two powerhouse clubs could easily meet again in the MLS Cup Championship this year. Columbus is one of the hottest teams in MLS and Seattle is boasting one of the best offense duos to ever play in the league.
For the Galaxy's second game, they travel to Dallas to take on the co-league leaders. A healthy Dallas offense can easily pick apart the LA defense despite the best efforts of Omar Gonzalez. The question here is can the LA offense find a way to score enough goals to keep pace.
Captain Suggestion
Omar Gonzalez - LA Galaxy: The stout defender is a great choice this week. He has been a stalwart of MLS Fantasy for several seasons and with two games this week; he has the potential to run up the score.
Look Ahead
DC United and Orlando City SC will both have a double game week in Week 11. Keep these players around for at least another week. Week 12 will see both Sporting Kansas City and the New England Revolution getting their first double game weeks this season.
Value Pickup for Week 10
Fatai Alashe – San Jose Earthquakes: At $5.1 this young stud will be a valuable addition as he plays two games. He has been a bright spot this season for a struggling Earthquakes squad.
Potential High Value Drop
Robbie Keane – LA Galaxy: If you haven't dropped Keane by now, it may be better to ride his absence out, but missing so many games and no return in site, riding this absence out is costly.