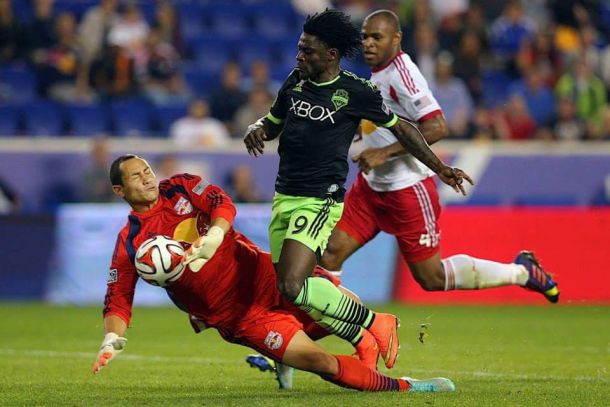 The Seattle Sounders will be finishing a three-game home stand on Sunday when they host the New York Red Bulls. This will be the Sounders third game in nine days. The Sounders currently sit at the top of the Western Conference and Supporters Shield standings with a record of 7-3-2 and 23 points. The Red Bulls have a record of 4-2-5 and 17 points which is good enough for third place in the Eastern Conference.
This will be the tenth meeting all-time between the two clubs. The Sounders have not beaten the Red Bulls since their 4-2 victory over them in 2011. Last season, the Red Bulls trounced the Sounders 4-1 at Red Bull Arena. That came on the heels of the Sounders fourth Lamar Hunt U.S. Open Cup victory in six years. Overall the series record is 3-3-3. The Sounders would love to end their three-game home stand on a winning note, while the Red Bulls are looking to end their two match winless streak.
This is not the same Red Bulls team of old. They no longer have Thierry Henry, Tim Cahill or Head Coach Mike Petke. They are still dangerous however. They have 2014 golden boot winner Bradley Wright-Phillips, Lloyd Sam and Sacha Kljestan. This is also a different Sounders team as well. In the past, the Sounders have been a dynamic team on offense and so-so on defense. So far this year, their defense has led them to seven clean sheets and just nine goal conceded in 12 games. Compared to last year, the Sounders had already conceded 19 goals. They are a much improved defensive, possession minded team now.
The Sounders are led by Clint Dempsey and Obafemi Martins up top. It's a pure joy to watch these two work together. In the match on Wednesday, you could tell that Martins had missed the last two matches due to an injury. The chemistry was a little off and Martins was showing some rust. They still looked good though.
Wright-Phillips leads the Red Bulls with five goals and three assists. Sam is second with three and three. The Red Bulls have been shut out twice this season and coincidentally, it has been their last two matches including last week's 2-0 loss to the Philadelphia Union. This should be a great match with a lot of star power on the field for both teams.
***EDITORS NOTE*** The Sounders-Red Bulls game will kick off approximately 50 minutes after the start of the Seattle Mariners baseball game. If you are going to the game, get there early to find parking. It will be a nightmare in downtown Seattle on Sunday afternoon. There is also potential that both games end at the same time.