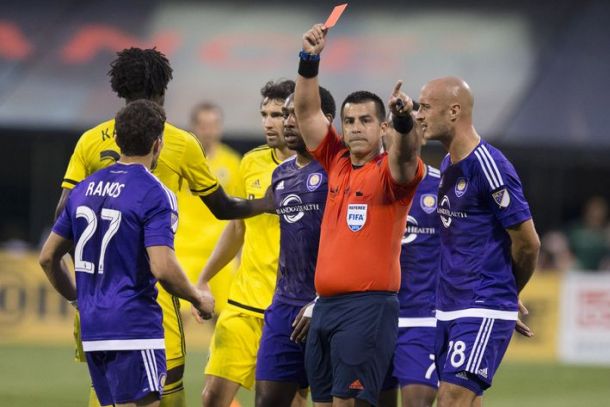 In the last outing between these two teams, Columbus Crew SC came out victorious as they ramped up a 3-0 victory over Orlando City SC at MAPFRE Stadium, with the help of a Rafael Ramos red card in the 45th minute of the first half. Goals by Ethan Finlay, Kei Kamara and Federico Higuain secured the victory.
This Saturday, Orlando looks to even the series when they host the red hot Crew at the Citrus Bowl in Orlando. With the newly minted team already playing average soccer, it might, just might, happen that Orlando can secure a victory. If key players such as Kaka, Tally Hall and Cyle Larin play at their best, this team can be difficult to contain.
Orlando comes into this match with a recent draw in their pocket against the San Jose Earthquakes. Kaka converted a penalty in the 64th minute to put the away side up 1-nil. But only four minutes later, Chris Wondolowski scored his 100th goal, also from the penalty spot to secure a point for his side.
The Crew on the other hand has had their share of a draw as well, a rather disappointing one at that. The Crew played host to rivals Chicago Fire last Friday. After being up 2-0 at halftime, credit goals to striker Kamara, Chicago turned around and started playing soccer in the second half. Jason Johnson stole the show when he nailed a header ball in from teammate Eric Gehrig in the 94th minute of play to tie the game at two-a-piece. That would be the end, and Columbus came out with a point.
Not to mention also, the Crew had a midweek friendly match against Valencia CF of Spain's La Liga. It's good not all the starters really played that match.
If Orlando were to win this match, there are three things they need to do:
1.) Shut down Kamara: Traffic around Kamara makes him hesitate at times, and he often gets out of position.
2.) Occupy the wings: Finlay and Justin Meram are the threat in the midfield slots to the opposition backline. With perfect through balls, crosses, and precise passing, this can shake up the backline. Orlando does not want that.
3.) Attack the net: In the last match, Orlando conceded too many turnovers. If they want to press, keep the ball, play short when needed, and have Larin and Kaka attack the net hard.
Projected Lineup: Columbus Crew SC (4-2-3-1)
Clark;
Klute--Parkhurst--Pogatetz--Francis
George--Tchani
Meram--Higuain--Finlay
Kamara
Projected Lineup: Orlando City SC (4-2-3-1)
Hall;
Ramos--Seb Hines--St Ledger--Boden
Ceren--Higuita
Shea--Kaka--Avila
Larin
Prediction: Columbus has an explosive offense that ignites the fire and excellent play that this team is capable of doing. Columbus wins.
Orlando City SC 0-3 Columbus Crew SC