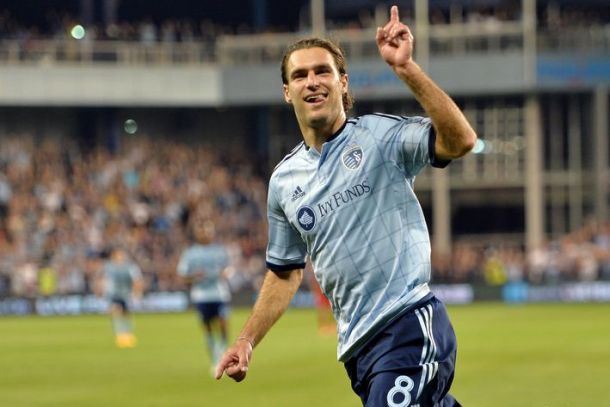 Sporting Kansas City dominated ten man FC Dallas as they pulled level for second place in the Western Conference. Krisztian Nemeth's early goal and Zach Loyd's first half red card doomed the visitors to a miserable night.
The game started with both squads pushing for control, but it was a 19th minute goal by Krisztian Nemeth that would be the game winner. Graham Zusi's entry pass was headed back across goal by Kevin Ellis for an easy score. Despite the goal, the game remained close throughout the first half, but in the 43rd minute, Dallas would see their game take a turn for the worst. Zach Loyd, already on a yellow for an early foul, received his second and his marching orders in the 43rd minute for a tactical foul on Nemeth. Loyd wound up being the only player cautioned in the match despite 25 fouls being called.
With a weakened Dallas squad taking the field, Sporting came out strong and dominated the early part of the second half. Nemeth showed his brilliance again with a great play in the box and found Benny Feilhaber for the second goal in the 51st minute. Graham Zusi found Kevin Ellis in the box for the second time in the box in the 57th minute, but this time Ellis finished the chance himself for the third goal. Rookie Connor Hallisey got his first start of the season and proved himself worthy in the 64th minute with a beautiful backheel pass to Zusi for the fourth and final goal of the match. Sporting finished the game a bit more conservative and allowed Dallas to play as they saw the game out.
With tonight's goal, Nemeth has moved into the top five for scoring this season. Benny Feilhaber added his fourth goal to go with his seven assists as this tandem seems to have found a rhythm to carry this team. Tim Melia capped off the month of May with his third win and third shutout in a five game unbeaten streak.
Despite the hot start, FC Dallas is on a three game winless streak that has seen their early season points lead dwindle. The top five teams in the Western Conference are separated by just three points. Zach Loyd's card did nothing to help the result tonight, but even with their strong offensive push, they managed just five shots with one on target.