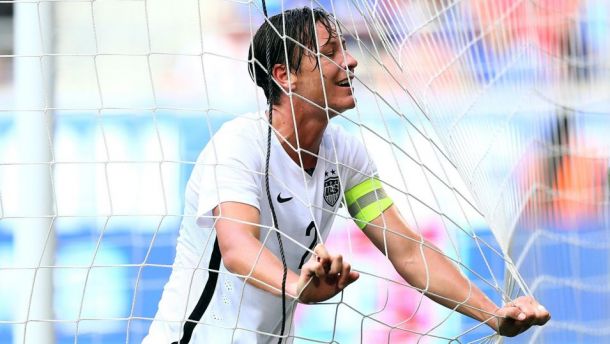 Well that wasn't quite what anyone with a vested interest in the United States Women's National Team wanted to see. No, few people expected that the USWNT would be held to a 0-0 draw by South Korea on Saturday. However, the 18th ranked team in the world sent out a disciplined, well organized side who performed really well. With all of that in mind, let's take a look at 5 things we learned from Saturday's match...
1.) South Korea should get out of its group
The Asian qualifiers have never won a match at a Women's World Cup, but if they can perform there like they did on Saturday they can do much more than just pick up a victory. The Koreans were well-discplined, highly organized, and had a great game plan put in place. They alternated between sitting off the USWNT and pressing high up the pitch, never allowing the Americans to settle into a rhythm. They recognized that the USWNT wanted to play with a diamond in the middle of the park, so they flooded the center and wouldn't let them knock the ball around.
Was it a pretty performance? No, it was far from that. But it was extremely effective. In knockout tournaments, it is rarely the team which plays the most beautiful football that winds up winning. No, the winner is always the team who knows how to win, how to grind out a result even when they aren't at their best. This Korean team has a good, experienced goalkeeper, a solid looking back line, and one superb creative talent in the center of the field. Ji So-yun, winner of the Women's PFA Player of the Year award in England last year with Chelsea Ladies, has the ability to turn a match on its head. This side should advance into the Round of 16.
2.) The USWNT need Alex Morgan and Megan Rapinoe to be fit
The lead up to this Women's World Cup from an American point of view has been dominated by endless injury questions. Morgan has struggled for fitness, Sydney LeRoux has struggled for fitness, Rapinoe, Ali Krieger and Abby Wambach have struggled for fitness. When Morgan and Rapinoe are on the pitch, the United States are a different side. It will be interesting to see how much match sharpness they have when they take the field in Canada, because the United States will have a difficult time of advancing from the Group of Death without them.
That is not to say that they cannot do it. With players like Carli Lloyd, Krieger and Wambach the Americans can still advance. However, if they don't have Morgan and Rapinoe able to play at least the role of a "super sub" they have very little chance of advancing past the quarterfinals.
3.) No one should be panicking
Was this a poor performance from the United States? Yes. Do they need to have more fluidity and tempo in their build up play? Yes. Do they need to utilise players with pace down the flanks more? Yes. Is it time to panic and start telling ourselves that there's no chance they'll win the World Cup? No.
There is no doubting the fact that this was a poor performance. Even the best of teams have bad days at the office. This is a team filled with world class talents, with the likes of Hope Solo, Wambach, Morgan and Rapinoe. They have seasoned veterans like Christie Rampone and Shannon Boxx. These are players who know what is needed to perform on the world stage, and they will take this match as their wake up call. When you're going off to compete at the highest level of your sport, you need to show up. Chances are, they will.
4.) This could be the tournament where the "second tier" of international football shows how far it has come
It has taken far longer for women's football to develop than it has taken for men's, and as such there are a handful of sides which have always dominated the game. However, this next tournament looks like it will have the strongest of collection of "second tier" international sides ever. Between the Koreans, the Spanish and the Dutch, it would be shocking if there wasn't a team that comes in professing a new world order and makes a run deep into this tournament.
5.) We aren't going to stop hearing about selection dilemmas
There are a number of places on the field where manager Jill Ellis will have big decisions to make in terms of who starts on June 8th, but there is no bigger decision than who starts at forward. Abby Wambach, Sydney LeRoux and Alex Morgan all have the talent to lead the line for any side in the world, but it's likely that one of them will be on the bench against Australia. Will Ellis opt for the more recognizable Morgan/Wambach pairing? Or will Morgan's health be protected and we see Wambach paired with LeRoux?
Or, will there be a true changing of the guard moment this tournament when Wambach is the one starting on the bench and it's LeRoux paired with Morgan? That last option seems highly unlikely at the moment, largely because of Morgan's health, but there is every chance that this selection dilemma will be talked about constantly until the tournament ends for the USWNT. Get ready, because here it comes.