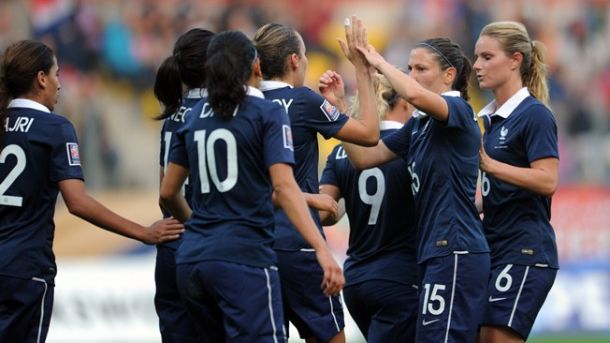 When the 2015 Women's World Cup kicks off on June 6th, it will be the seventh edition. When France takes the field for the first time during the tournament, it will be their third time doing so representing their country.
Les Bleues best ever finish in the Women's World Cup happened just four short years ago when they finished fourth in the competition. This time they will be looked at as a favorite to win the whole thing rather than knocking off the favorites. They are currently the third ranked team in the world behind the United States and Germany.
When looking back at the 2011 World Cup, forward Gaëtane Thiney had this to say; "The memory of the 2011 World Cup is still fresh in our minds – it was an intense and emotional experience. Hopefully, we can get a taste of that again in June, and who knows, maybe even win the whole thing,"
France blew through their competition during the European qualifiers. They won all ten of their matches when they scored 54 goals and only conceded three. For those of you at home, that's 5.4 goals scored per qualifying match while conceding just 0.3 and that is flipping impressive. Thiney led Les Bleues with 13 goals and Louisa Necib led the team with 13 assists.
This time around France has a new manager. They are being led by Philippe Bergeroo who took over the team from Bruno Bini in September of 2013. Bergeroo's previously coaching experience saw him as coach of Paris Saint-Germain, Rennes and the French men's U-17. He is also a former French international goalkeeper and UEFA Euro 1984 winner.
France's first match isn't until Tuesday, June 9th when they take on England at Moncton Stadium. Kickoff is scheduled for 14:00 local time. Their second match comes just four days later on June 13th when they square off against Colombia. The match will be played at Moncton Stadium once again with kickoff scheduled for 14:00 local time. Their last group stage match will take place on June 17th when they take on Mexico at Lansdowne Stadium in Ottawa. Kickoff is scheduled for 16:00 local time and will coincide with the England-Colombia match.
In the past, France would be happy just to knock off a few favorites here and there and go home happy. Now they won't be happy if they aren't taking the hoisting the trophy on July 5th. It won't be easy, but Les Bleues will make a deep run and will come one game short of making the final. They will leave the tournament as they entered, as the third best team in the world.
Roster
Goalkeepers (3): Céline Deville, Sarah Bouhaddi, Méline Gérard
Defenders (5): Wendie Renard, Griedge M'Bock Bathy, Laura Georges, Sabrina Delannoy, Anaïg Butel
Midfielders (10): Amandine Henry, Jessica Houara, Eugénie Le Sommer, Kenza Dali, Louisa Necib, Élise Bussaglia, Gaëtane Thiney, Marina Makanza, Amei Majri, Kheira Hamraoui,
Forwards (5): Viviane Asseyi, Laëtitia Tonazzi, Élodie Thomis, Pauline Crammer, Marie-Laure Delie