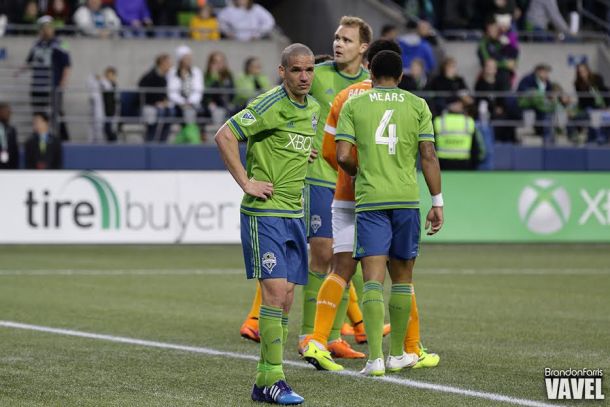 Major League Soccer's Disciplinary Committee has suspended Sounders midfielder Osvaldo Alonso and D.C. United forward Chris Rolfe one game each and have fined the two players for their unnecessarily violent conduct in their Week 13 games. Their absence from Week 14 matches could hurt their clubs immensely.
Rolfe committed his offense in the 62nd minute of Saturday's game against Philadelphia Union. The DC forward fell over trying to get a foul call, and while he flopped over, Rolfe spiked Union's Vincent Nogueira right in his gut. DC take on Chicago Fire on Wednesday night, so they will sure be missing Rolfe for this early match in which energy levels will not be nearly as high as in a weekend match.
Ozzie Alonso was banned for this weekend's game at Sporting Kansas City after he delivered a kick after the whistle to Red Bulls middy Felipe Martins in the 83rd minute of Seattle's clutch stoppage time win over NY Red Bulls. Sounders FC will miss him against Sporting.
To view the Rolfe incident click here. To view the Alonso incident click here. Both clips are found on MLS's official site.