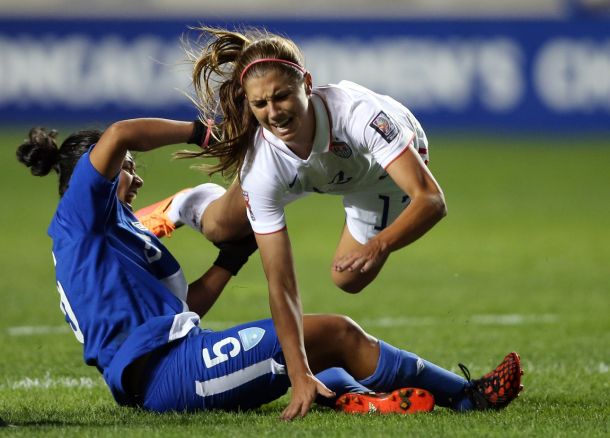 On Monday, June 8th the United States Women's National Team will begin their quest for a third FIFA Women's World Cup title against Australia. The USWNT, the second ranked team in the world, are one of the favorites to win the title. Read on to see five reasons why the USWNT will be victorious in Canada this summer...
1. Experience
The United States roster this year is made up of players that have played in a World Cup before. 19 players have previously played in a World Cup for the United States Women's National Team. In the 2012 Summer Olympics in London, 13 of the players on this team won Gold in the women's tournament. The United States made it to the World Cup Final in 2011 before losing to Japan on penalties. That core of players from that run is still on the roster. The United States also won the Gold at the 2008 Bejing Olympics.
2. It's in their backyard
The World Cup this year is in Canada, which helps the United States tremendously. This is the 3rd time that a Women's World Cup has been on North American soil, and the United States supporters will flock to these games especially the one in Vancouver at the end of their group schedule. This also makes travel a luxury that the other teams in Group D don't have. The previous 2 were hosted by the United States, including the 1999 world cup win. The last time the United States women played in Vancouver was 2012, when they 5-0 in the 5 games they played including beating the Dominican Republic 14-0 and Guatemala 13-0.
3. Travel Schedule For Group Games
The United States travel schedule for their Group D Games is very advantageous as they play their first two games in Winnipeg and then fly across country to Vancouver. If after the group stage they finish first they fly from Vancouver to Edmonton, which according to Google Maps is about an hour and a half. If they finish second however, the schedule would be a lot less advantageous as they would go all the way across the country to Moncton which is near Nova Scotia.
4. Good Mix of Young and Old
The United States roster is as previously stated made up of good veterans and the roster also has some good youngsters that can help them go far in this tournament. The roster has 15 players on it under 30 years old and 4 who are 25 or younger, including stars Alex Morgan and Sydney Leroux.
5. Revenge
As previously mentioned, the majority of this roster played in the 2011 World Cup, where the United States lost in the final to Japan in a heartbreaker that went to penalties. They will want to revenge that loss and will be hoping to "finish" the job at the final in Vancouver this year. It has been 16 years since the United States won the Women's World Cup, the last one being in 1999, when Brandi Chastain scored the game-winning penalty in front of a packed Rose Bowl in Pasadena, California. Abby Wambach is one of the greatest American players ever and she doesn't have what legends like Mia Hamm do, a World Cup title. Prior to the tournament Abby Wambach said this would be her last tournament, so the Americans will rally around her and try to get revenge and win it in Vancouver