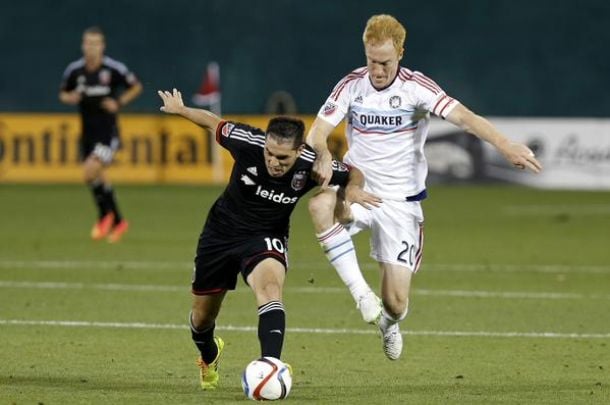 There's one huge difference between last season and this season for the Chicago Fire: they're drawing far fewer matches. The team who set the MLS all-time draws record last year with 18 have only two this year, although they will probably feel they merited one on Wednesday night given how they played in the first half.
It was a largely even opening period, but Chicago had the better of the scoring opportunites. After captain Jeff Larentowicz missed a penalty in the 26th minute, striker David Accam made it 1-0 just one moment later. Although Chicago probably would not have had a second goal just a moment later, the Fire must be left thinking of what could have been had Larentowicz converted the spot kick.
It was clear that United wanted to capitalize on the mistake, and they came out for the second half looking like a completely transformed team. Substitute Fabian Espindola, who has been forced to deal with a long injury layoff, was crucial to the turnaround. His substitution catalyzed a shift in the performance from United, and it took them just over a quarter of an hour after the restart to fashion the equalizer.
Once Jairo Arrieta had leveled the score, United seemed to grow in confidence even more. They pressed harder, passed with more precision and threatened the Chicago goal. Finally, in the 70th minute Arrieta completed his brace and put United ahead for good.
Espindola played a crucial part in both goals, and he was again the maestro pulling the strings for the third goal. Just five minutes after Arrieta made it 2-1, Espindola fashioned a chance for young Conor Doyle, and the man from McKinney, Texas made no mistake to close out the match. United are now top of the Eastern Conference and top of the Supporters' Shield race, with 28 points. Meanwhile, Chicago languish in seventh in the East on just 14 points.
Key Moments
10' SAVE! Nick DeLeon is played in behind the Chicago defence, and he gets off a curling strike towards the far post which Jon Busch smartly keeps out. Good chance.
20' JUST WIDE! Matt Polster, who has been terrific all year for Chicago, goes on another of the runs for which people are comparing him to John Harkes. He strides through the midfield and plays Accam in behind. The Ghanaian holds off a challenge, and gets off a knuckleball shot that rolls just wide.
26' PENALTY! Harry Shipp floats a cross back post that bizarrely comes off the arm of Steve Birnbaum. Not even close to his body there. No clue how that isn't a yellow card as well.
27' SAVE! Larentowicz looks to roll it to the keeper's right, but Andrew Dykstra gets down well and pushes the ball off the upright!
28' GOAL! Well now Chicago have the goal they craved! Shipp played in Quincy Amarikwa down the left wing, and he clipped a great ball back into the box for Accam. The striker let the ball run across his body before finishing coolly. Flowing move.
61' GOAL! And we are level! Chicago will be very disappointed to concede a goal directly off a corner, but that was a classy header from Arrieta and a good ball from Espindola. Game on.
69' GOAL! That's such an unlucky goal to concede. DeLeon wins a knockdown ball on the edge of the box, and it falls to Arrieta's feet. He tries to slip in DeLeon, but Lovel Palmer cuts the pass out with a sliding challenge. Good defending, except that the ball rolls right back to the feet of Arrieta and he one times a finish into the bottom corner. 2-1 DC.
75' GOAL! What a lovely ball that was from Fabian Espindola. Good angled ball played into his path down the left wing, and he hit a low, hard cross first time across the face of goal. Doyle showed more desire than anyone else to get to the ball, and he inadvertently chips Busch from six yards out to seal the three points for DC.