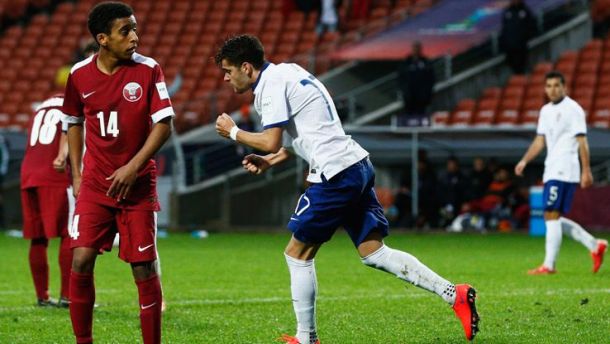 Portugal go into Friday night's match against Colombia having already qualified for the knock out rounds following thrashings of Senegal and Qatar in their two previous matches. Ahead of Friday match, the Portuguese are in good form both offensively and defensively having yet to concede a goal while attacking duo Ivo and Andre Silva have four goals between them. They should prove tough opposition for a Colombia side even as Portugal manager Helio Sousa would be naturally inclined to rest key players ahead of the knockout stage as six of his players: Joao Nunes, Rafa, Tomas, Andre Moreira, Riquicho, and Domingos Duarte have played every single minute of the group stage so far.
Conversely, eight of his players have played 30 minutes or less. The same could be said for Colombia manager Carlos Alberto Restrepo whose side have also qualified for the knockout stages with six players having played all 180 minutes: Montero, Angulo, Quintero, Sanchez, Tello and Gutierrez and six: Londono, Vasquez, Chavez, Hernandez, Rodin Quinones, and Deinner Quinones having not played a single minute.
Despite qualifying for the next round, Colombia haven't faired as well as Portugal, having only managed a draw with Senegal and a 1-0 victory over Qatar. However a game filled with second string players doesn't seem to be on the cards for either side due to the differing nature of their knockout stage opponents. Should Portugal win or tie Colombia, they'll win Group C and face the Group A 3rd place team, New Zealand or Group F's 3rd place team Honduras or Fiji, the result of which has yet to be decided. Should they finish runners up, which would only occur with a loss to Colombia, they'll have to face tougher opponents in the forn of the United States, who have impressed despite a 3-0 loss to Ukraine in the final match of Group C.
As evidenced by previous results, Portugal appear the stronger side and are favorites to win. However, Colombia should not be taken lightly and have players that could cause Portugal trouble. Key players for Colombia include goalscorer Joao Rodriguez, Vitoria Setubal from Chelsea, Deportivo Cali forward Santos Borre who's got Colombia's lone assist, and goalkeeper Alvaro Montero who's sure to face plenty of shots and will have to have an excellent game should Colombia win. As for Portugal, impact sub and striker Nuno Santos leads the team with two assists despite playing only 25 minutes and strikers Ivo and Andre Silva should test the Colombian defense all night with 4 goals between them. Much like their adult contemporaries, both sides favor quick, technical, attacking soccer. Should Portugal beat Colombia, they deservedly strengthen their case as one of the favorites to win the World Cup. While it remains to be seen if this will be the case, fans are certainly in for an entertaining match.