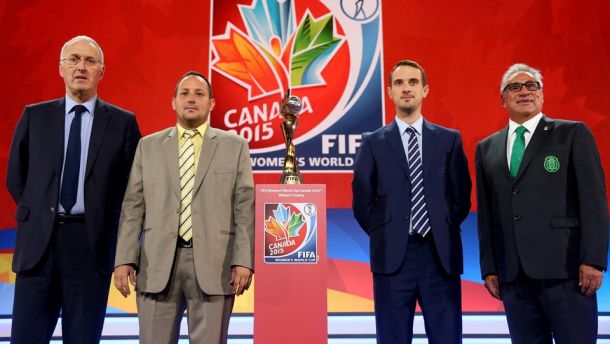 Group F of the 2015 Women's World Cup in Canada consists of France, England, Colombia and Mexico. Two teams are from UEFA, one from CONCACAF and one from CONMEBOL. They have expanded the field from 16 teams in 2011 to 24 teams for now. The winners and runners-up from each group, as well as the best four third-placed teams, will qualify for the first round of the knockout stage.
This writer only sees two teams advancing out of this group and those two teams are England and France. No offense to Colombia or Mexico, but in your humble correspondent's opinion these two teams just won't be challenging the duo from UEFA.
England won all ten of their matches in qualifying against Ukraine, Wales, Turkey, Belarus and Montenegro. They did all that despite changing coaches four separate times during the qualifying campaign. They also scored 52 goals and only conceded just one goal in 900 minutes of qualifying. This is England's fourth appearance at the World Cup. Their previous three appearances in 1995, 2007 and 2011 saw them reach the quarter-finals.
If you would like to see France's preview, please go here. They also went undefeated in qualifying and conceded just three goals in ten matches.
Colombia will be making just their second appearance at the World Cup. In 2011, they failed to reach the knockout stages after the finished at the bottom of their group. The conceded four goals and didn't score a goal in their three matches in 2011.
Colombia claimed four wins in four games during the 2014 Copa America Femenina. During the final stages of the Copa America Femenina, Colombia had to settle for two draws and one win. They were the only unbeaten team in the tournament and secured 17 points in seven games. During their tournament run, they only conceded two goals while scoring 12. They were shutout twice, but also shutout their opponents in those matches.
Mexico will be making their second straight appearance and third overall at the Women's World Cup. They failed to make it out of the group stage in both times in 2011 and 1999. Mexico made it to the semi-finals of the CONCACAF Women's Championship, the qualifying tournament for the region, but lost to eventual champions in the United States. In the third place match, which served as the final qualifying spot, Mexico squared off against Trinidad and Tobago. With about ten minutes remaining, Mexico trailed 2-1. Mexico got the tying goal and sent the match into extra time. Las Tri would not be denied and scored twice in extra time to seal their trip to Canada.