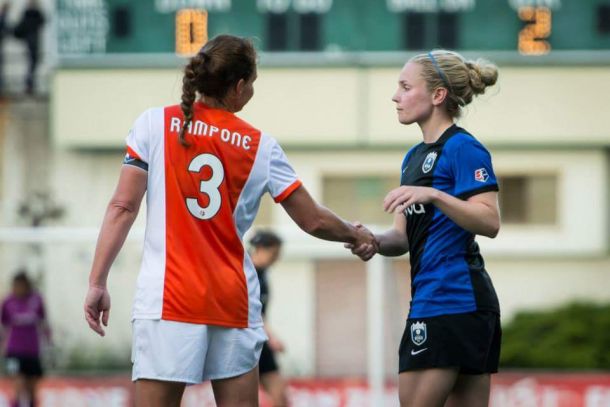 The Seattle Reign will be looking to extend their shutout streak to two games this Saturday when they welcome Sky Blue FC to Memorial Stadium in Seattle. Both teams are coming off draws from their previous matches. Sky Blue FC played to a 1-1 tie against the Houston Dash at home this past Sunday. The Reign is coming off a very physical 0-0 draw at home to the Chicago Red Stars.
In eight games so far this season, Sky Blue has only one victory. Their overall record is 1-3-4 (W-L-T) and sits on seven points. The Reign has a record of 2-2-2 and sits on eight points. Not much better than Sky Blue. This is the second meeting of the season between these two clubs. The first meeting ended in a 1-1 draw in New Jersey back on May 9th.
The Reign had plenty of chances against the Red Stars to find a winning goal. Early in the game they struggled a bit in moving the ball quickly as Head Coach Laura Harvey said in her post game conference; "I said to the girls at the end, a team like Chicago is going to put you under a lot of pressure. The only way you can counteract that is by moving the ball quickly. We didn't do that. The times we did, we were a threat. But we didn't do it often enough or for long enough."
If the Reign want to continue their unbeaten streak, they will need to be a lot quicker on the ball and will need hope that Haley Kopmeyer can continue her stellar play during Hope Solo's absence. In her three games as the starting goalkeeper, Kopmeyer has gone 1-0-2 and has a .667 goals against average. She has faced ten shots and only has given up two goals, one of those coming on a penalty.
Sky Blue were also disappointed with their result against the Dash especially after taking the lead in the 11th minute to see it all go for naught after giving up the tying goal in the 86th minute. Sky Blue Head Coach Jim Gabarra was not happy with his team's lack of focus; "We have to find a way to push through the lack of focus at the end of games. We played well enough again today to come away with three points, but we did not do a good enough job of finishing our chances. As a team, we need to have a little bit better concentration to put shots on frame, as well as displaying that killer extinct to put goals away."
Sky Blue will need to keep playing strong defensively and not give up late goals if they want to have any chance of climbing out of the NWSL cellar. A win by the New Jersey based club could catapult them all the way into a tie for third depending how the rest of the games play out on Saturday.
After this match, the NWSL will be taking a two week break for the group stage of the 2015 Women's World Cup and will resume play 13 days later on June 19th.