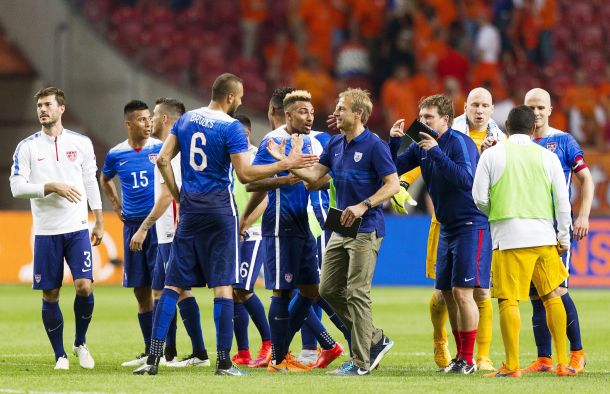 The United States Men's National Team takes on Germany next week in Cologne in a glamour friendly, but it is still unclear who will be in manager Jurgen Klinsmann's starting XI. Let's take a look at the possible lineup:
Formation
The USMNT went with a 4-3-3 against the Netherlands, which allowed for more attacking football, hence the 17 shots, but left the defense to deal with a very dangerous Dutch attack, which was evident by the 3 goals and 21 shots.
Klinsmann may go back to a 4-4-2 to give the defense more help on the wings, but if he is impressed with the offense created against the Dutch, he will stick with his 4-3-3. For these potential lineups, the 4-3-3 will be used as the template to place players in.
GK
Brad Guzan played fine versus Netherlands, nothing outstanding but overall solid play. The starting goalkeeper will just depend on whether Klinsmann wants to give Nick Rimando or William Yarbrough some playing time. Rimando should get the start in the first half and Yarbrough might get the second half.
LB
The mercurial Brek Shea had an average to below average game. Yes, he can contribute well on the offensive side but defensively, he was exploited a few times by the Dutch. The Brek Shea experiment on the wings still gets a grade of incomplete due to the inconsistency of Shea on both sides of the ball. After Shea was subbed for DeAndre Yedlin in the 57th minute, Fabian Johnson moved to left back and played well enough to garner the start against Germany.
CB
John Brooks played an average game as well and has yet to live up to his load of potential. The young centerback has the size and the physical tools but somehow chooses not to use them as well as he can. If he wants to continue on playing center back for this team, his positioning needs to improve and he needs to get better at using his physical tools in the air and when marking. Klinsmann has placed a lot of trust in Brooks and he should be one of the centerbacks against Germany.
Ventura Alvarado and Michael Orozco were both very underwhelming in their 45 minutes each. Alvarado, who only won his 2nd cap versus Netherlands, will need to show Klinsmann something if he wants to be playing in the Gold Cup later this summer. Because both Alvarado and Orozco were below average, Klinsmann could turn to Seattle Sounder Brad Evans. Evans has made the transition to playing center back and his play must have got the attention Jurgen Klinsmann to have been included in this squad.
The centerback pairing that could be rolled out by Klinsmann is Brooks and Evans.
RB
Timmy Chandler, to put it frankly, played extremely poorly against the Netherlands. He can be somewhat positive on offense but his defense is not at the level this team needs to compete with Germany. Overall, Chandler needs to find some good form if he does not want to be dropped out of the player pool. We should expect to see a change here by Klinsmann. If Klinsmann doesn't move Evans to centerback, Evans could end up here. If Evans does start at centerback, DeAndre Yedlin deserves the start. Yedlin played outstanding against the Dutch. He showed US fans shades of last World Cup by using his insane speed to fly by defenders on the wing and send in dangerous crosses.
CM
Kyle Beckerman continues to be a reliable cog in the midfield. Of course he did make a few mistakes (especially the one that led to a disallowed goal), but he proved in this game that he can still play at the International level. Beckerman slid underneath Bradley and Morales to play defensive midfielder. Beckerman definitely could see the start against Germany and would deserve it. However, Danny Williams also played well and it would not be surprising to see him start over Beckerman.
Alfredo Morales was very underwhelming in his start. Mix Diskerud came in for Morales and played extremely well in the midfield. Diskerud should get the nod on Wednesday due to his great play.
Michael Bradley was the best player for the USMNT on the field. Bradley proved his detractors wrong who say he cannot play in the advanced role at his usual elite level. Bradley imposed himself on this game in the midfield and that run to set up Bobby Wood's game-winning goal was absolutely world-class. He's going to start, let's just leave it at that.
Forwards and Wingers
Aron Johannsson played okay but he was definitely overshadowed by the young Bobby Wood. Klinsmann will probably look to see more out of Wood, who will get the start likely in the center of the wings up top.
Gyasi Zardes continues to be solid offensively but needs to do better defensively. Zardes could get the start but more likely will get minutes off the bench with Klinsmann probably wanting to see what Juan Agudelo can do with extended minutes up top.
Fabian Johnson played well in a more advanced role but probably will get the start on defense at left back. With the position open, will Klinsmann start three young players up top in Wood, Agudelo and Stanford's Jordan Morris? It would not be surprising to see those three paired up top for the start. Those three players up top have a lot of pace, which could give the German backline some problems.