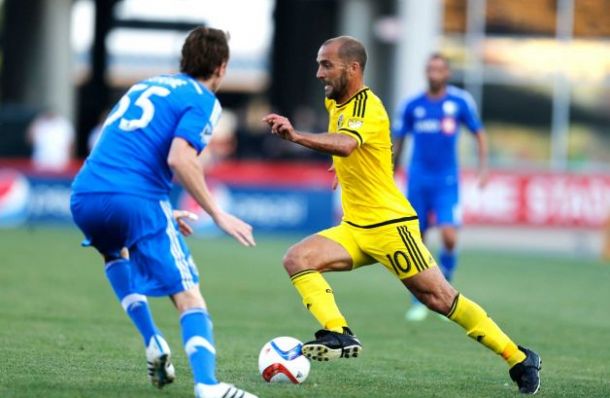 Frustrated. Adjective - Disappointed; Thwarted. This particular word is what is leaving the Columbus Crew SC locker room, after being defeated by Montreal Impact. Now on a five game winless streak, Columbus Crew SC are now sitting at a unpleasant record of 4-6-4. Are Crew SC on the downhill of the season, or is it just a kink in the system?
Columbus Crew SC controlled the match throughout the whole first half of the match with multiple chances coming off of timely runs, and well taken set pieces. Kei Kamara in the 6th minute was able to put his side up when he nailed a header just above the target. Just two minutes later, Ethan Finlay made a precise overlapping run to collect the ball from Hector Jimenez but unfortunately, the touch was a little hard. Kamara led the home crowd to an awe moment after a scissor attempt went just wide of the net in the 18th minute. Columbus Crew ended the half with a total of seven attempts on goal, but couldn't find the back of the net.
Montreal came out a different team in the second half. Ten minutes into the half, Maxim Tissot gave the away side a 1-nil lead after a mishap on keeper Steve Clark. This would start the rise of the attack of the Montreal Impact. Andres Romero could've put the away side up 2-o after he rockets a shot off of the post. Crew Sc would start an attack of their own. Kamara collected the ball about 23 yards out, and took a shot that sailed high and under the south stand bleachers.
In the 74th minute, a simple call rested on the referee, Ted Unkel. As Kamara turned for a shot, Montreal was called for a handball. The issue of this particular call, was it inside, or outside of the penalty area. Columbus claimed inside. But again, referee Ted Unkel awarded a free kick, right on the edge of the box. The ensuing kick by Federico Higuain was directed right into the wall.
Just five minutes later, Montreal took a 2-0 lead off of a Columbus set piece. A corner kick for Crew SC turned dangerous when the Impact broke free on a counter attack and Andres Romero gave his side the uphill battle in a positive note.
Columbus Crew SC were able to bring a goal back late in the dying moments of stoppage time, as Higuain was able to slot the ball home in the 93rd minute of the second half.
The final stood at a 2-1 victory for the Montreal Impact.
"I take full responsibility for the match. I can't blame it on fatigue" stated head coach Gregg Berhalter.
"It's frustrating, playing in front of your home crowd and to get a result like this. It's unacceptable" said captain Michael Parkhurst.
Columbus Crew SC play home next June 13 to LA Galaxy.