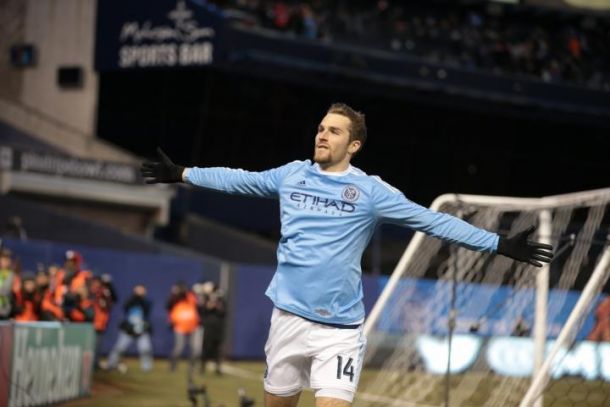 It was an unfortunate night for Philadelphia as an exhausted Union side fell to New York City for the Bronx based side's first ever away victory.
So what went wrong for the Union?
Team selection:
For momentum's sake the Union fielded the same line up as last weekend, bar an injured Fernando Aristeguieta but it proved costly on several occasions in the game when situations most fit teams would deal with with ease led to Philadelphia conceding two goals.
Substitutions coming too late: Head coach Jim Curtin said earlier in the week at half time against Columbus that the team would look to score a second goal to put away the game in the second half. Saturday's match shouldn't have been any different with Zach Pfeffer and Eric Ayuk coming on late in the game and causing New York seriously problems. Had they come on sooner, the Union probably would have put the game to bed early in the second half.
While it's easy for Union fans to blame their team's third match in eight days, the game deserves a deeper look.
The Union failed to capitalize on a string of chances throughout the match despite dominating the final 15 minutes of play and this comes as the result of several factors:
Poor crossing accuracy: The Union managed just 19% crossing accuracy from a whopping 37 crosses. Generally a source of excellent attacking chances for the Union, an excellent game from Jason Hernandez, a lack of rotation between Sebastian Le Toux and Christian Maidana (who was more often than not central as opposed to wide left) and a lack of Conor Casey up front due to injury meant that the Union not only crossed poorly but failed to capitalize on crosses in general.
Sapong dropping deep: Despite the fact that he scored and his similar build to fellow Union strikers, on the night Sapong had a tendency to drop deep rather than stay high and win headers for the Union midfield to run of off. While a quicker forward who's more capable than Casey at running at defenders, his hold up game was lacking.
Failure to capitalize on chances: The most glaring opportunity that stands out is Le Toux's shot from the edge of the box that was calmly collected by Saunders. But he wasn't the only one on the night to launch a tame effort at the New York City goalkeeper, which is simply inexcusable in such an excellent position.
The goals:
Set pieces continue to be a source of goals for the Union, conversely for New York City their first goal was a brilliant strike from Thomas McNamara that was made possible by the space created by the Union defense when they should have been pressing McNamara and putting in a tackle in front of the box. This isn't the first instance where Philadelphia were punished in this regard with a failure to put a foot in on the part of Ethan White and Vincent Nogueira leading to goals for Real Salt Lake and DC United.
As for the second goal, the Union were caught out oddly enough on a throw in. Both Sebastian Le Toux and Brian Carroll were caught napping and failed to come to Fabinho's aide when he was beaten one on one by Patrick Mullins. The proper move on the part of the Union should have been to double team Mullins or for one of the two to jocky with Mullins in order to win the header.
Despite the errors, Saturday night's game wasn't a bad performance for the Union. If anything they were probably the better team. So what did they do right?
Fabinho tucking in: particularly in the first half, Fabinho did well to tuck in and help Nogueira, the less defensive of the midfield duo, and to break up New York's combination play, a hallmark of their midfield diamond. He was able to due this due to the lack width from the diamond and the fact that New York right back Jeb Brovsky wasn't making forward runs for the most part.
Breaking up play in midfield: Probably a symptom of missing Diskerud and Grabavoy being on the bench for much of the game, New York City had a substantially weakened midfield. As such Philadelphia took advantage of this and broke up play well for their less possession savy replacements. Brian Carroll even made forward runs as a result. (Although had Maurice Edu been in midfield they might have resulted in better opportunities).
Taking a different approach: The Union were able to take advantage of Andrew Wenger's speed over the short distance due to the excellent passing of Vincent Nogueira. His passing range allowed Wenger and Le Toux to make intelligent runs with the assurance that they would receive the ball in good positions rather than picking the ball up deep and trying to dribble their way through midfield like in previous matches without Nogueira.
What the Union can learn from this match:
As a tightly packed set of matches is bound to happen later in the second half of this season and in future seasons the Union need to remember the importance of rotation. While coach Curtin may have been hesitant to do so given the developing chemistry and relative lack of options on the bench, it remains an important part of player management. He may have learned a lesson the hard way but the ever positive second year manager is sure to bounce back and hopefully for Union fans, coach Philadelphia to some more victories this season.