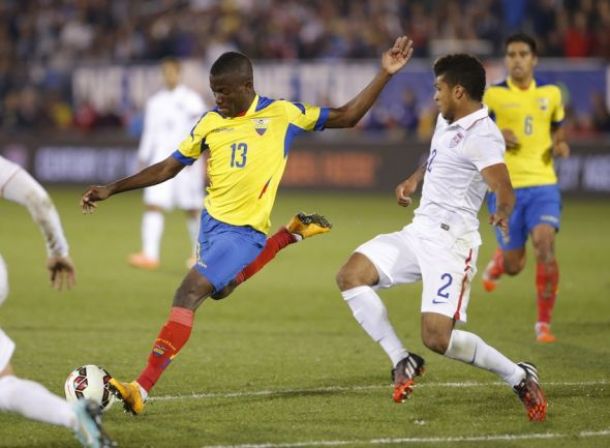 There are two very well-known facts about the Ecuador Men's National Team. First, they are nearly unbeatable when they play at the Estadio Olimpico Atahualpa in Quito. Second, they struggle very much when they play outside of Quito especially at low-altitude.
Ecuador has used their home field advantage to their favor in recent years riding a strong home record to three FIFA World Cup appearances in the last four cycles. The Estadio Olimpico Atahualpa sits 9,127 feet above sea level which causes big problems for visitors coming into the venue with usually less than a week of training beforehand to attempt to acclimate to the high altitude.
Let's look at a comparison of Ecuador home and away records in the last four FIFA World Cup cycles:
| | | | | | | | | |
| --- | --- | --- | --- | --- | --- | --- | --- | --- |
| Home/Away | Matches | Wins | Draws | Losses | Pts | Goals | Allowed | Diff |
| Home | 35 | 24 | 8 | 3 | 80 | 57 | 20 | +37 |
| Away | 35 | 6 | 9 | 20 | 27 | 31 | 61 | -30 |
The bad news for Ecuador and their fans is that this competition is the Copa America and none of the matches are in Quito. This year's competition is being held in Chile for the first time since 1991.
The Copa America has not been kind to Ecuador throughout history. The last time that they made it past the group stage and into the knockout round was at Copa America 1997 in Bolivia. They finished the tournament with two wins and two draws having been knocked out in the quarterfinals on penalties by Mexico.
It is not a coincidence that Ecuador had a good showing that tournament. All of their group stage matches were held at the Estadio Felix Capriles in Cochabamba, Bolivia at a stadium sitting 8,392 feet above sea level. Before that, their best finish was a fourth place finish at Copa America 1993 which was held in Ecuador.
In the last five Copa Americas (spanning from the 1999 edition in Paraguay to the 2011 edition in Argentina), Ecuador has a combined record of one win, one draw, and 13 losses in 15 matches. Their only win coming on July 17th, 2001, a 4-0 win over Venezuela in their final group stage match with both nations already pretty much eliminated.
Expectations for Ecuador at this edition of the tournament are pretty low, about on par with the low elevations of the stadiums in which they will be playing their group stage matches. The matches against Mexico and hosts Chile will likely see Ecuador sit back defensively with a very counterattacking mentality. Ecuador may press forward more against Bolivia, a team that they have fared well against. Three of their six away wins in World Cup qualifying have come in La Paz, Bolivia.
Ecuador played in two friendlies against CONCACAF side Panama both at sea level in preparation for this Copa America. The first match in Panama, ended level at 1. Fidel Martinez's 51st minute strike was cancelled out by a 64th minute penalty kick from Roman Torres. Ecuador won the second match at home in Guayaquil by a score of 4-0 with a brace from Martinez as well as goals from Miler Bolanos and Jefferson Montero.
Injuries have been very hard on this Ecuador squad as well. They will be without midfielders Antonio Valencia of Manchester United, Michael Arroyo of Club America, Angel Mena of CS Emelec, and forward Felipe Caicedo of Espanyol all out due to injury. A few other players left off the squad were goalkeeper Maximo Benguera and midfielder Fernando Hidalgo. 20-year-old Stuttgart midfielder Carlos Gruezo was left off of preliminary squad as well for the tournament.
What should we expect from Ecuador in the 2015 Copa America? We should expect three points for sure. Anything less than a win against Bolivia will be a disappointment considering they are the weakest team in the group. If Ecuador can somehow scratch out a draw versus Chile or Mexico, that would be a very big accomplishment for the team.
Squad
Goalkeepers (3): #1 Librado Azcona (31, Independiente del Valle, ECU); #12 Esteban Dreer (33, Emelec, ECU); #23 Alexander Dominguez (28, LDU Quito, ECU)
Defenders (8): #2 Arturo Mina (24, Independiente del Valle, ECU); #3 Frickson Erazo (27, Gremio, BRA); #4 Juan Carlos Paredes (27, Watford, ENG); #10 Walter Ayovi (35, Pachuca, MEX); #16 Mario Pineida (22, Independiente del Valle, ECU); #18 Oscar Bagui (32, Emelec, ECU); #20 John Narvaez (23, Emelec, ECU); #21 Gabriel Achilier (30, Emelec, ECU)
Midfielders (8): #5 Renato Ibarra (24, Vitesse, NED); #6 Christian Noboa (30, PAOK, GRE); #7 Jefferson Montero (25, Swansea City, WAL); #11 Juan Cazares (23, Banfield, ARG); #14 Osbaldo Lastra (31, Emelec, ECU); #15 Pedro Quinonez (29, Emelec, ECU); #19 Pedro Larrea (29, LDU Loja, ECU); #22 Jonathan Gonzalez (20, Universidad de Guadalajara, MEX)
Forwards (4): #8 Miller Bolanos (25, Emelec, ECU); #9 Fidel Martinez (Universidad de Guadalajara, MEX); #13 Enner Valencia (25, West Ham United, ENG); #17 Jaime Ayovi (27, Godoy Cruz, ARG)