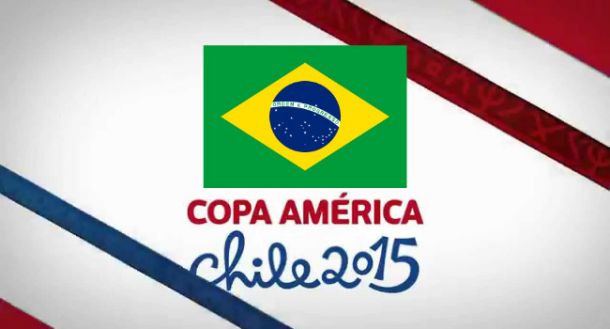 Brazil come into the Copa America in Chile off the back of world cup disappointment in their own country. Despite a more than disappointing tournament for the Brazilians they come into the Copa America as one of the favorites, having been without a loss under new manager Dunga in his second spell coaching Brazil.

The Brazilians had one of their worst showings in the 2011 Copa America with a surprise exit to the hands of Paraguay on penalties in the quarter finals.

The Brazilians will be looking to earn their 9th Copa America title and on paper certainly have the squad to do it.

One of more balanced Brazilian sides in recent history. Here's a lookal at the squad break down:

Expected line up: 4-3-3 / 4-2-3-1

Goalkeeper:
Jefferson: The Botafogo man was Julio Cesar's back up at the previous Copa America and the Confederations Cup. A good goalkeeper all things considered, at 32 years old this is probably his last opportunity to play in a major tournament should Brazil not win the Copa America and qualify for the Confederations Cup.

In many ways he is here by default due to Julio Cesar's retirement and the drop in form of Rafael Cabral but take nothing away from him, he's a talented, athletic goalkeeper. After Brazil's showing at home last year some would say he has an unenviable task but the former Trabzonspor has impressed so far for a Brazilian team that's been far tighter at the back under Dunga.

Marcelo Grohe and Neto each have their merits based on club form, hence why they're on the roster but Dunga has given every indication that Jefferson will be his number 1.

Right Back: Danilo
Likely the undisputed right back. Dani Alves has yet to feature for Brazil since Dunga's appointment and may well retire from the national team, in his absence, Danilo- newly of Real Madrid has made the position his own.

Center Back: Thiago Silva

Former captain prior to Neymar's appointment and arguably one of the best defenders in the World, the PSG man is certain of a starting spot.

Center Back: Miranda

If the friendlies leading up to this tournament are any indication then Miranda is likely to usurp David Luiz for the second center back position for Brazil. And rightly so.

The Atletico Madrid man has had a fantastic past two seasons and has clicked well in a short period of time with Thiago Silva.

Alternatively David Luiz is in fact Silva's long term partner for club and country but after a nightmare showing at the World Cup and some high profiles errors this past season, the former Benfica man must know the end is near.

He could however still see time in defensive midfield where he excelled for Rafa Benitez at Chelsea.

Left Back: Filipe Luis

With the injury to first choice left back Marcelo and the inclusion of the inexperienced Geferson, Filipe Luis is the logical replacement.

Central midfield: Fernandinho

With the injury to Luiz Gustavo and the exclusion of Paulinho and Lucas Leiva, Fernandinho is the go to man in defensive midfield.

He'll play a similar role for Brazil to what he does for Manchester City which highlights his ability to aid in the transition from defense to attack and shield a less than quick central defense.

Central midfield: Elias

The Corinthians man may just edge Casemiro to partner Fernandinho in midfield. The more offensive option of the two, Elias has split time with Casemiro in recent friendlies and is the more recent of the two.


Central midfield: Roberto Firmino

In the absence of Oscar due to injury the final midfield spot/the more advanced role has largely been a toss up between Robert Firmino and Phillipe Coutinho. Both share similar qualities as quick, goal scoring capable attacking midfielders.

The Liverpool man Coutinho is versatile as he's better out wide than Firmino but Firmino seems to be able to score more regularly. Despite his stunner of a goal against Mexico last week, Coutinho is likely to lose out to the Hoffenheim man who's featured more regularly (and scored) since Dunga's appointment. They may be rotated but both will certainly see time during the tournament.

Right Wing: Willian

A regular member of this front three for Brazil, he's not had the best of seasons for Chelsea but will look to erase that was a good showing at the Copa America. He gets the nod due to his natural ability as a winger and his chemistry with the other two members of this front three.

Center Forward: Diego Tardelli

Has formed a good understanding and partnership with Neymar over the last few months. More dynamic than the shambolic Fred and not exactly your traditional number 9 at only 5ft 10.5 inches,

Tardelli has experience as an attacking midfielder as well as forward so expect him to interchange with Neymar at times and perhaps also Willian.

Left Wing: Neymar

Captain of the Selecao, goalscoring extraordinaire.

What more can really be said about the Barcelona forward? Questions might be asked about his fitness given the long grueling season he's had with Barcelona but given his good performance in last weeks champions league final, hopes are high. He's had an excellent season at Barcelona and continues to climb the all time goal scoring charts for Brazil.

Could he surpass Pele on said list? We shall see. But for the time being he's a lock for Brazil's left wing.

Substitutes:

Goalkeepers: Neto, Marcelo Grahe

Defenders:

David Luiz: despite his defensive misgivings the PSG man is absolutely killer on freekicks and is an excellent dribbler, it's unclear whether he will start or not.

Marquinhos: Teammate of Silva and Luiz he's thought of highly around the world and has seen some time at right back at the club level despite being a center back. May not see time at this tournament but is probably Silva's long term replacement at just 21.

Fabinho: Not the Philadelphia Union left back, but the Monaco man is also an outside back. He's had an excellent season and is probably a better out and out defender than Danilo but given Brazil's propensity for attacking he's likely to play second fiddle

Geferson: a late edition due to the injury of Marcelo. With just 16 league appearances to his name, he may be one for the future.

Midfielders:
Casemiro: Thought so highly of by Rafa Benitez that he blocked a permanent move to Porto. He's a true number six who's got quality on set pieces as well. Expect Dunga to bring him on if he wants to lock down a game.

Douglas Costa: Part of the small expatriate community that is the Brazilians at Shakhtar Donetsk he's one of the better know players there.

He's featured mostly off the bench in recent friendlies and although he's not had the best of seasons he's the stereotypical Brazilian a tracking midfielder.

Fred: No, not that Fred. Another member of the Brazilians of Shakhtar, he's an attacking midfielder capable of also playing wide. May not see much time on the field however.

Everton Ribeiro: Don't let his club team fool you, Ribeiro can score goals. The key man in Cruzeiro's recent title victories before heading to Al Ain, he can play in the #10 role as well as on the wings.

Forwards: Robinho
Perhaps a sentimental inclusion or there for lack of a better option, Robinho's best days are behind him. Although he was never a particularly big goal scorer he can offer some trickiness on the dribble.

Schedule break down:

Brazil kick off their campaign on June 14th against a Peruvian side that could be dark horses in this tournament.

Peru finished 5 points off a world cup qualifying spot recently but made an impressive run to 3rd place in the 2011 edition of the Copa America having finished third in their group.

Key players:

Paulo Guerrero: The striker is well known in Brazil having played for Corinthians for the past three years and scoring plenty of goals including a club world cup winner against Chelsea although he's with Flamengo now.

Strong and a natural goalscorer, the Brazilian centerbacks should be able to handle him.

Jefferson Farfan: Likely the danger man for Peru, the FC Schalke winger is coming off of a serious injury but at his best, he's lightning quick and could cause Felipe Luis plenty of problems but he can also get in crosses to Guerrero.

Diego Penny: Some might know him from his brief stint at Burnley. Now with Peru's Sporting Cristal, he'll perhaps the busiest of the three as starting goalkeeper. He'll have to have a great game if Peru stand a chance.

Conclusion: Could be a tight affair, but this is a match Brazil should

Brazil follow up their game against Peru with arguably the toughest test of their group in the form of joint favorites Colombia on June

This group of Colombians are arguably their golden generation and have another year of playing together under their belt meaning increased chemistry. With this match likely deciding the winner of Group C and Colombia looking for revenge for their World Cup loss this is likely to be a very tough match for Brazil.

Key players:

James Rodriguez: The break out star of the 2014 World Cup, he's followed up that tournament with a solid season for Spain's Real Madrid. The key man overall for Colombia and the reason they're one of the favorites to win the Copa America

. He'll look to cause trouble for Brazil with his phenominal dribbling and vision and will hope to not be left in tears like the last time he faced Brazil.

Pablo Armero: The villain of last year's World Cup following his dangerous knee to the back of Neymar. The right back, also capable of playing on the left frustrated Neymar at times during their last encounter and will look to do so again this time around. He's also quite capable of getting forward and putting in a cross.

Carlos Bacca: The Sevilla man is absolutely on fire following his Europa League victory against Dnipro. Exptected to replace Falcao in the starting line up, he's for all intents and purposes the complete forward. Add to that world class service from James Rodriguez and you could see Bacca terrorized the Brazil defense all night.

Conclusion: While Colombia have improved, this group of Brazil players is arguably much more solid defensively than their predecessors. Expect a draw.

Brazil close out the group stage against lowly Venezuela on June 21st.

Having never won a Copa America or qualified for a World Cup, the Venezuelans aren't exactly the picture of soccer excellence. That being said they have some good players and finished just 5 points off of a playoff spot in the last World Cup qualifying cycle.

The two actually drew their last Copa America meeting 0-0 in the group stage in 2011where Venezuela finished runners up in the group.

Key players:

Solomon Rondon: The burly forward is coming off of an excellent season for Zenit Saint Petersburg having won the Russia title and finished second top scorer behind Hulk for the team and overall in the Russian Premier League.

He's surprisingly quick for his size so Thiago Silva and Miranda will have to handle him intelligently.

Juan Arango: The creative brain of the team, the Club Tijuana man is captain of Venezuela as well as top scorer and all time caps leader. He's an excellent passer of the ball; however at 35 years old it's a question over how much he's got left in those legs.

Fernando Amorbieta: Currently with Fulham, the former Athletic Bilbao defender can play both centrally and at left back. He's got good defensive positioning and a penchant for the occasional dangerous tackle, he's going to be tormented all day by the Brazil forwards.

Conclusion: Their key players aside, Venezuela lack quality in many areas of the pitch, this should be Brazil's easiest match and a certain victory (as certain as anything ever is in soccer).

Should Brazil win their group they'll be faced with six days rest and a likely match up with a Luis Suarez-less Uruguay who are expected to finish runners up in a Group B that features Argentina, Jamaica, and Paraguay.

However, should they finish runners up they'll have only four days rest and likely match up with Mexico. They vanquished Mexico with ease in their final warm up game prior to the Copa America, but the Mexicans will be looking for another opportunity to prove themselves having out played Brazil at the World Cup in a 0-0 group stage match as well as getting the better of them at several Olympics and youth tournaments.

A game against Mexico in theory is a less enviable match up but given the fact that they're sending their B team to the Copa America, Brazil may actually luck out should they finish second in their group.

Aternatively, in the unlikely event that Mexico finish ahead of Chile (as well as Bolivia and Ecuador), Brazil would have to face hosts Chile whom they barely skirted by on penalties in the round of sixteen of last year's World Cup. Given the form of Alexis Sanchez of late, this is something Brazil want to avoid.

From there on a lot depends on the other matches in the knockout stages, but one thing is certain. For a nation that's so used to winning trophies, Brazil will be dying to end their two year drought.