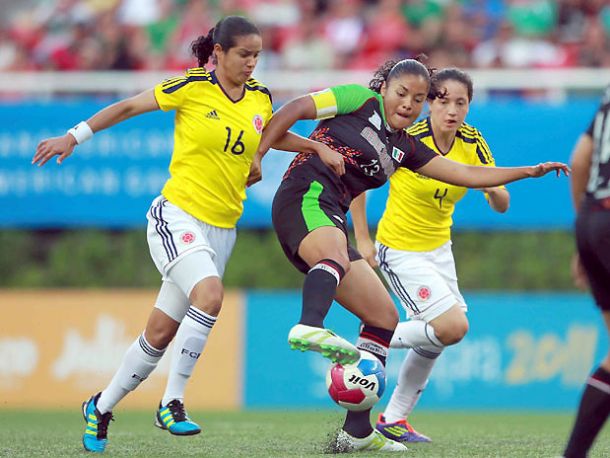 Two places in the FIFA rankings seperates Colombia and Mexico who will meet Tuesday evening at Moncton Stadium in Group F play at the Women's World Cup. In seven meetings against Colombia, Mexico is unbeaten with a 6-1-0 record and a +7 goal differential but the teams have never played each other in a World Cup.
In the 2011 Women's World Cup, El Tri failed to advance past the group stages, finishing 3rd behind England and eventual winners of the tournament, Japan. Interestingly enough, Mexico did not win a game in the 2011 tournament and has not won a single game in the competition in their history, featuring twice in 1999 and four years ago. The Mexican women's team record combined in the two tournaments is 0-2-4 with 22 goals allowed.
Hailing from Monterrey, Mexico is captain Nayeli Rangel who will be a player to watch out for in the middle of the park for the Mexicans on Tuesday. Currently, Rangel has been capped for the national team 67 times, which is an astounding record for a 23-year-old. Also to her name are six goals scored in international play. Monica Ocampo is also another player to look out for in the match against Colombia. At the forward position, Ocampo has scored fourteen goals and has appeared for Mexico 73 times. For club, Ocampo plays for Sky Blue FC in the United States, along with star USA defender Christie Rampone.
Colombia are also looking for their first World Cup win in their history. Las Cafeteras qualified for the 2011 competition but also exited in the group stage like their counterparts, bowing out of a group containing Sweden, USA, and North Korea. The only point in Colombian Women's history in the WC came from a 0-0 draw with North Korea in Bochum, Germany, also including two losses to the Swedes and Americans.
Yoreli Rincon will be playing in the midfield for Colombia as the 21-year-old starlet will look to get her 46th cap on Tuesday. Catalina Usme, midfielder for Colombian side Formas Intimas, is the leading goalscorer in Colombian history with 21 goals. The most capped player for Las Chicas Superpoderosas is Ingrid Vidal who leads the line of attack for Colombia and also has 50 appearances.
Both teams have sights set on making an improvement in this World Cup and it is also vital for either side to get their first win in the competition's history. In a group also consisting of England and France, three points would be huge for either Colombia or Mexico.