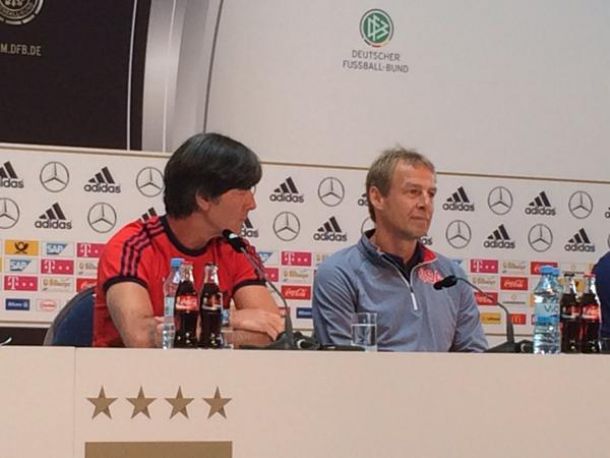 It was almost a year ago since these two countries faced each other in the last match of Group G in the 2014 FIFA World Cup in Recife. That game ended with a 1-0 German victory, with the score line flattering the Americans and absolutely controlling 67.1 percent of the possession and didn't allow the United States a shot on target.
This time, it's a bit different however as both sides set to face each other in Cologne as the world champion manager Jogi Low takes on his former coworker from the 2006 FIFA World Cup on home soil in Jurgen Klinsmann. The Americans are buzzing with confidence after an inexperienced and young side defeated the third place finisher last summer, The Netherlands in a dramatic 4-3 victory, after going down 3-1 as Danny Williams and Bobby Wood scored the equalizer and the winner in the closing moments to earn the USMNT's first-ever win against the Netherlands.
Jurgen has set to put the same lineup following the amazing match they put against the Dutch, while the German side will play this match before a European Championship qualifier against Georgia on Saturday and with the exception of seven players, have included 13 players in their latest call up that won the World Cup last summer.
"We want to make another step forward in terms of experience, in terms of measuring ourself. They know they will face another top team, but we will try to take the game to Germany, as well. We want to take some risks and score some goals here.''
Klinsmann says this friendly is another perfect test for the USMNT and its squad full of players still in the development and experimental stage as they look forward for preparation for the Gold Cup on home soil next month.
"In order to grow as a soccer nation, we need more consistency in results against teams that are above us," he stated. "That's why we always try to play teams that are in the top 10 in the world. We want to see where we stand. We build more belief that we can hurt the big nations if you do everything right and things go your way."
The USMNT have beaten Germany before, three times in fact, as recently as June 2013 when Clint Dempsey scored two goals to lead the US to a 4-3 triumph in the nation's capital. However, they'll be looking for their first win in Germany in their third attempt.
POTENTIAL LINEUPS FOR THE AMERICANS AGAINST GERMANY
UNITED STATES-GERMANY SERIES HISTORY