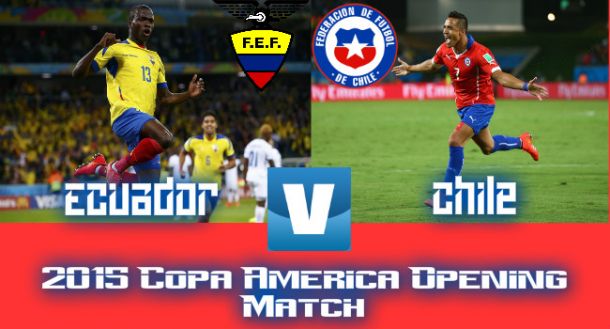 Chile and Ecuador are set to face off in the opening match of the 2015 Copa America, which is in fact, being held in Chile this year. The match will be played at Estadio Nacional in Santiago, where thousands of La Roja fans will be going bananas cheering for the home side.
Chile are coming in off a warm-up victory against El Salvador, a match which facilely ended in a 1-0 victory for La Roja. Jorge Valdivia scored a sliding one-touch strike in the 14th minute of that one to put his nation ahead.
That match took place without Zamora Trophy-winning keeper Claudio Bravo and star Juventus midfielder Arturo Vidal, who were both in Berlin for their clubs' UEFA Champions League Final matchup (FC Barcelona 3 - 1 Juventus). They will make a monstrous impact for the Chileans, and coupled with Alexis Sanchez, Eduardo Vargas, Gary Medel, and loads of other stars for European league clubs, will charge towards that title.
But it all starts with game number one versus Ecuador.
Ecuador have enjoyed some international success lately, as attacker Enner Valencia has led the team in scoring for the past few years. Valencia has nearly one goal for every cap, with 11 scores in 19 appearances. Fidel Martinez has scored 5 goals in his time with Ecuador as well.
The last fixture and result for the Ecuadorian side came against Panama, whom they faced twice in four days. The first match ended in a 1-1 draw, the second in a 4-0 home win for Ecuador. Fidel Martinez of Mexican club UNAM scored a trio of goals over the course of the two games.
Despite the obvious young talent that Ecuador do possess, it will just be so overwhelmingly difficult to push past the experienced stardom of the Chilean side. Chile have never won a Copa America, and are hosting their first since 1991, so now couldn't be a better time to change that. Manager Jorge Sampaoli has a big chance to guide La Roja to cup glory and some bragging rights against rivals Brazil and Argentina.