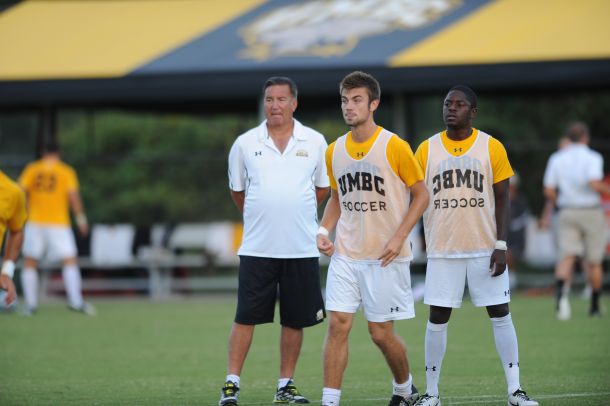 "That was an amazing crowd. The whole town got behind us - their enthusiasm says a lot about the school. It was an amazing run with an amazing group of players."
These were the words that UMBC men's soccer coach Pete Caringi Jr. said after the team's 1-0 loss to the University of Virginia in the NCAA Men's College Cup national semifinal game in Cary, North Carolina. The team was no stranger to being an underdog in the tournament as they played in four consecutive road games en route to that historic feat.
They knocked off Wake Forest (3-2 on penalties), fourth-seeded, in-state rival University of Maryland (1-0), thirteenth-seeded Louisville (1-0), and twelfth-seeded Creighton (4-3 on penalties) to send the little-known Maryland school into its first ever Division I and league-sponsored Final Four.
Thanks to that magical run, Pete Caringi Jr. was named National Coach of the Year by the NSCAA and its publication, Soccer America. The America East Conference and the Eastern Collegiate Athletic Conference (ECAC), also recognized Caringi and his staff with top coaching honors.
This August, will be Caringi's 25th season as head coach of the Retrievers. VAVEL had the privelege to speak with Coach Caringi about the Final Four run, the growth of US Soccer, the team's goals for the upcoming season, his preference of Ronaldo or Messi, and more.
Q: How long have you been involved in the game of soccer?
"I've been involved with soccer my whole life. Literally from the time I was six years old, I was brought up in a neighborhood here in Baltimore that was very ethnic, Italians, Polish, Germans, it was part of our everyday activities playing soccer."
"Unlike a lot of areas and a lot of towns in America, we played soccer as our number one sport so I went right in from playing to coaching and to this day, I'm still in love with it."
Q: What was your first soccer memory?
"Well at a young age, I got involved in playing. My father brought me down and signed me up for the little league play-in. We would practice a couple times a week and just got more involved and more successful with it and had a lot of success as players. It was a great experience and was something that I have taken a liking to for the rest of my life."
Q: What's your assessment on the growth of soccer in the United States over the past few years?
"I think it's grown tremendously. I think it's gotten better. I know there are people that criticize it, but it's part of our sports landscape now. Obviously in other countries, it is their number one sport, and it is not our number one sport. Also, we have plenty of other sports such as basketball and baseball."
"Soccer is now a part of our culture, and it only continues to get better with the growing of the sport. I've lived it, I've been a part of it, I've seen how far it has come."
Q: Knowing that UMBC is not a well-known school compared to the University of Maryland, how do you and your staff go about looking for recruits in the state?
"Well we are from the state so we have good contacts with a lot of the coaches. We've watched players at camp for a long time. In the state of Maryland, we get to see kids as early as possible just like Maryland or any other school. Once your reputation of your school academically gets out there and what you do on the soccer field, I think that's how you recruit."
"We've obviously had a lot of good players come here from the state of Maryland as their number one choice, and we've had great success because of it."
Q: You were able to coach your son (Pete Caringi III) while he played here. How was that experience?
"It was a great experience because it worked out for both of us. He got his degree here, went on to be an All-American, signed professionally, and helped us win championships. From the standpoint of him playing and having a successful career, it was great. There was never any problems."
"From the first day he walked in to our practice field, he knew he had to earn it and not have it given to him just because of his name. I think the players respected him of what he did on the field rather than getting special treatment because of being the coach's son."
Q: How did it feel getting to the Final Four last year? Do you think that run has put UMBC on the map as one of the top soccer schools in the nation?
"Well it was a great run. How I felt, well words probably can't describe it. It's something that we've all worked very hard for, and we're very proud of what we've done because it's not an easy thing to do and obviously more people know about UMBC because of the success of the soccer program. That's a great feeling since I've been here a long time."
"The last couple years have been a successful run with our guys, and I think to accomplish what we accomplished was phenomenal. There are other schools that are bigger and have "more resources", but it just goes to show you that if you have a team of guys that stick together and have one purpose, they're gonna be successful."
Q: What are the team's goals for the upcoming season?
"Our goals will be the same as it's been every year. We're looking to win an America East Championship which will qualify us for the NCAA Tournament. We lost a lot of guys to graduation and some are playing professionally. There's a lot of guys in the last two or three years that have graduated from UMBC and are currently playing professional."
"But our goal is to be more patient because we have a lot of young players and hopefully playing our best soccer in November when the playoffs come around."
Q: Do you follow soccer outside of coaching? Do you have a specific team or league you follow?
"I follow quite a few leagues. Obviously I do have a preference to some of the Italian teams because I am Italian. I follow the Premier League and the Spanish League (Liga BBVA) so I enjoy watching great soccer."
"When AC Milan came and visited Baltimore, they trained here at UMBC, so I had the fortune to be down there in the locker room and watch them train. Chelsea was here, and they also trained here at UMBC. The United States National Team trained here. Tottenham trained here. We've got a great facility."
"As far as international soccer, I enjoy it. I love watching some of the teams come here, and I make sure I go see some of the world's greatest athletes come to visit us here at UMBC. It's an honor for us. I enjoy watching all international soccer, and I'm not one to just stick to one league."
Q: Messi or Ronaldo and why?
"That's a great question. I think you can't go wrong with either. Obviously I think Cristiano Ronaldo is a great player but for me I'd have to take Lionel Messi. I think he has more pressure on him, day in, day out, because Argentina won the World Cup with Diego Maradona, who has always been in his shadow."
I think Cristiano Ronaldo is a phenomenal player but to say one over the other is difficult but if you're forcing me, I'd have to say Messi because he's been under more pressure. He's phenomenal for his size with his skill and his ability. I'm a fan of both to be honest with you, but I think Messi has bigger shoes to have to follow. When you have to do that, it takes its toll."
You can follow Coach Caringi on Twitter here: @PeteCaringi. You can follow UMBC men's soccer on Twitter as well: @UMBCMensSoccer. The UMBC men's soccer program kick off their season with a home exhibition against American University at Retriever Soccer Park on August 18th. The team's first regular season game is on August 28 at home against Fairfield for the Hampton Inn BWI Kick-Off Classic.