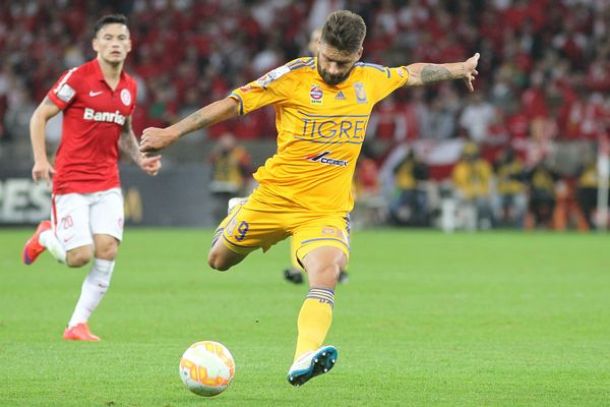 Internacional of Porto Alegre travel to San Nicolás in the second leg of a crucial Copa Libertadores semifinal between Tigres of Mexico. The first leg ended in a 2-1 victory for the home side of Brazil from goals by Andres D'Alessandro and Valdivia. However, Tigres got an important away goal inside 23 minutes when Hugo Ayala scored for the Mexicans and will now go back to Mexico with the idea that a goal could see them through to the final.
Tigres' take
A Mexican side has not made the final of the Copa Libertadores since Chivas in 2010 when they lost to Inter ironically enough and a win would make Tigres the third Mexican ever to reach a final since that Chivas side and Cruz Azul in 2001 where they lost to Boca Juniors of Argentina that year.
This side recently brought Andre Pierre Gignac from Marseille and four other players (Uche, Javier Aquino, Javier González and Jürgen Damm for 60 million pounds), who finished as the second top goal scorer in Ligue 1 with 21 goals as their most important import as it very rare to see a European play in the Copa Libertadores, let alone in Mexico. However, an impressive match against Inter in Porto Alegre on his debut shown that he has the capability to score just like did in Brazil. Nahuel Guzmán, who was in the Copa America squad for Argentina last month that made it to the final will also be a crucial player in goal. Ecuadorian Joffre Guerrón, who has four goals in the Libertadores will be a key player alongside the Frenchman.
A goal or so would be enough for the Mexican side, just in case Inter don't score as away goals count double. Bad news for this side however as they will be without Hugo Ayala, who scored the lone goal in that match for the Mexicans but only getting sent off 12 minutes inside the second half.
Inters' take
Internacional go into this second leg knowing an away goal would see them through into the final for the third time in their history, when they won the previous two in 2006 and 2010. D'Alessandro was a part of that successful side and knowing that a homecoming between River Plate, who qualified in a 1-1 draw in Paraguay having beaten Guarani of Paraguay on aggregate 3-1. It was him and Valdivia, who have four and five goals respectively are the key players for Diego Aguirre's side, who qualified Peñarol to a final in 2011, only to lose to Neymar's Santos.
Still, the most successful side in Porto Alegre would love to see another Copa Libertadores final as they could become the third Brazilian team with 3 titles like Saô Paulo and Santos, as well as the 13th Brazilian team to make the final since the start of the 21st century.
Possible lineups:
Tigres: Guzmán; Jiménez, Juninho, Ayala, Torres; Arévalo, Pizzaro, Damm, Rafael Sobis, Aquino; Gignac.
Inter: Alisson; William, Ernando, Juan, Geferson; Rodrigo Dourado, Aránguiz, D'Alessandro Valdívia; Nilmar, Lisandro López