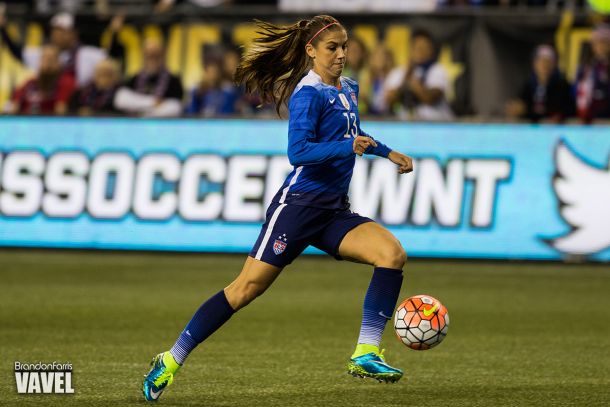 As first reported by Grant Wahl of Sports Illustrated, it appears that Alex Morgan may be heading to Orlando via a trade. Morgan requested the trade in the hopes that her and her husband, Orlando City SC midfielder Servando Carrasco, could live in the same city.
It appears that newly formed Orlando based NWSL team, Orlando Pride, is giving up a lot for Morgan. Orlando would receive Morgan and Canadian International Kaylyn Kyle in exchange for Orlando's first pick in the upcoming expansion draft, two international spots and U.S. international fullback Meghan Klingenberg from the Houston Dash. It also appears that Lindsay Horan of PSG may be involved as well if she decides to join the NWSL.
Morgan, just 26, is widely considered to be one of the most popular U.S. women's players at the moment even though she has struggled to stay healthy these last few years. In her three years in Portland, she has appeared in 28 matches. She scored 15 goals to go along with 11 assists. Since 2013, her production at the club level has gone down. She appeared in only four games this season and scored one goal and assisted on two others. Granted most of the issue this past season was due to injury and her international duty.
When asked about the potential trade after the USWNT 1-1 draw against Brazil Wednesday night, this is what she had to say; "I'm with Portland as of right now, so nothing's confirmed. Obviously, my husband does play there, so I'm in Orlando a lot, but there's nothing right now that I can confirm."
Morgan continued, "If an opportunity arose where I was in Orlando that would be a great opportunity to be with my husband and be part of an expansion team and the continued success of the NWSL."
It looks like Orlando is trying to make a huge splash in their first year. They need to be careful not to give up too much for a player or two. A trade like this reminds of a trade back in 1989 in the NFL between the Dallas Cowboys and Minnesota Vikings. Minnesota gave up so much for one player, Hershel Walker, and Dallas got a bunch of draft picks that eventually led to three Super Bowl titles in four years.
Will the outcome be similar for Portland or will Orlando win this trade? Stay tuned for more updates with VAVEL USA.