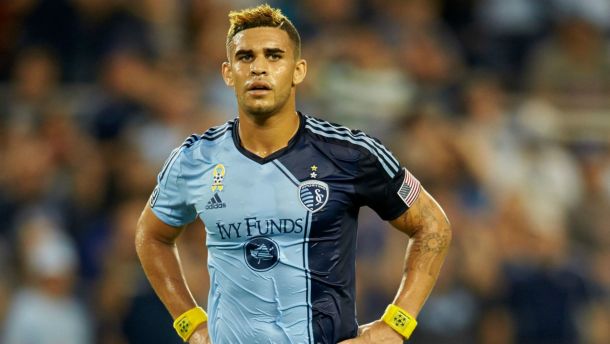 Sporting Kansas City will be hosting the LA Galaxy on Sunday, and both clubs are in need of three points for their playoff goals.
The Major League Soccer (MLS) regular season is over after this game and both clubs have a lot to gain and lose. Sporting at the moment are holding on to the sixth and final Western Conference playoff spot. Sporting has 48 points and are just one victory away from tying the Galaxy, who are in second place with 51 points. So, a comfortable victory at Sporting Park might potentially catapult them to third or higher if a few results go their way.
Kansas City would need the Houston Dynamo to defeat the Vancouver Whitecaps FC at BC Palace, the Colorado Rapids to beat the Portland Timbers at Providence Park, and finally they would need Real Salt Lake to pull out an upset and beat the Seattle Sounders FC at CenturyLink Field. All these matches will take place on Sunday as part of MLS's "#DecisionDay" and KC will need all these things to go their way to climb up the table.
No matter what happens, a victory at home will punch Kansas City's ticket into the post-season. However, if Sporting fail to get the three points against the Galaxy then they might be eliminated if FC Dallas does not bail them out. The Hoops will be hosting the San Jose Earthquakes on "#DecisionDay." If the Quakes find a way to win, they would knock Kansas City out of the playoffs.
KC will need striker Dominic Dwyer and midfielders Benny Felihaber and Graham Zusi to run their offense against LA's struggling defense. The Galaxy has shown that they can be easily exposed recently. In their last performance, they gave up five goals in the second half to the Timbers at the StubHub Center in a shocking loss which ended 5-2. Kansas City's offense can produce the same havoc as the Timbers did, but they will need Felihaber to run the show.
The defense of KC is just as vital as the offense is to securing the crucial three points on Sunday. U.S. international and SKC center back Matt Besler will need to be the anchor for the defense as they face LA's attack. Besler and company will have the privilege of attempting to stop Robbie Keane, Gyasi Zardes, Sebastian Lleget, Giovani Dos Santos, Juninho and Steven Gerrard. One thing Kansas City has to remember is that even if they score two goals, LA's offense can easily drop three unanswered and start Sporting's offseason early.
However, the one thing going for them is that the Galaxy have not won in Kansas City since September 27, 2007. At that time, the Kansas City Wizards were playing at Arrowhead Stadium. Since the 1-0 victory back in '07, the Galaxy have only been able to muster up an 0-3-3 record plus a pedestrian -4 goal differential. Los Angeles will need to break the streak if they want to hold on to second place and skip the first stage of the playoffs that begin on October 28th and end the next day.
LA's veteran squad has eight players above the age of 30; five of them are either starters or regular contributors to the team. If the Galaxy want to realistically make a run to win their sixth MLS Cup, they will need the rest. In other words, the Galaxy's post-season begins at Sporting Park on Sunday.
The Galaxy's offense will produce multiple chances in the game and most likely they will convert on a few of them. However, LA will need their defense to play a solid 90 minute game for the first time since Aug.
LA goalkeeper Donovan Ricketts and center back Omar Gonzalez have seen better days; in their last five games, they have conceded nine goals. In the month of August, they played five games and defense only allowed five goals. Recently the back line for LA has been nothing but a mere shadow of the once tough and stingy defense.
If the Galaxy's defense can wake up and suppress SKC's offense on Sunday, it will most likely lead to a positive result on the road. However, LA's back line appears to be in a deep slumber as of late which will give Kansas City multiple chances.
Prediction: Sporting Kansas City 4-3 LA Galaxy
Shots will be firing all over at Sporting Park on "#DecisionDay." SKC will be relentless and LA's defense will crumble in the dying moments of the match.