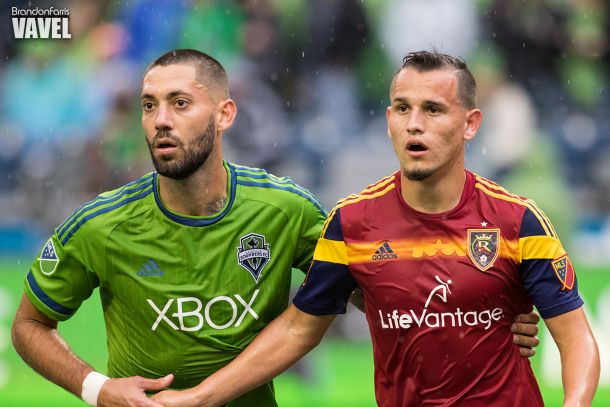 SEATTLE, Wa. -- In front of a blazing 55,000 at CenturyLink Field, it didn't take long for Clint Dempsey and the Seattle Sounders to relieve their home fans and clinch a spot in the MLS Cup Playoffs.
Sounders Score A Trio In First 20
Dempsey struck first in the fifth minute, sliding into and volleying home an Obafemi Martins cross from the left wing to make it 1-0 in favor of the Sounders.
Seattle doubled home the lead just five minutes later, as Deuce assisted winger Marco Pappa to the top right of the box, from where he expertly used his masterful left-footed skill ability to hook a screaming low shot past keeper Jeff Attinella and into the bottom left side of RSL's net to make it 2-0 just 10 minutes in.
Martins set up Dempsey again in the 20th minute, having his fast break shot attempt deflected by Attinella and put right in the path of the unmarked American for an easily-tracked one-touch overhead finish.
"It was good for us to take the early lead," said Dempsey after the game. "It gave us confidence."
The Sounders hounded Salt Lake with breakaway potential off every giveaway, as Oba and Deuce created multiple other attacks that unfortunately for the crowd drenched in a heavy downpour did not find their way into the back of the net.
"Jumping on it early definitely helped," said coach Sigi Schmid. "It established a good rhythm for us early in the game."
From that point on, it was clear Seattle would be clinching their position in the playoffs, however holding midfielder Osvaldo Alonso came up limp and had to come off in the 70th minute.
Now that it is clear the Rave Green will be matched up with Westen Conference rivals LA Galaxy in the first round of the postseason, Alonso's health could be a key as to whether Seattle can secure a victory and placement into the second round of matchups in the West.
Gil Gets RSL On Board
Luis Gil broke Stefan Frei's and the Sounders' clean sheet in the 77th minute, with Tony Beltran precisely sliding a ball to the center of the box and Gil's right foot, which knocked the ball without much discomfort to make it 3-1.
The score was Gil's first since June of 2014 when he scored at Columbus Crew SC, and it put RSL on the board in which the team flat out looked embarrassed against a Sounders team in cruise control.
All three bookings in this match were yellow cards handed to Salt Lake, with Juan Manuel Martinez shown a card in the 43rd, then John Stertzer in the 55th, and Sebastian Jaime again in the 89th.
Due to a more controlling second 45, Real Salt Lake won the possession battle 53.5-to-46.5 percent and also led in shots (8-7), passing accuracy (87%-83%), and corners (6-1).
Dempsey was the obvious impact player in this one with his goal and two assists. After battling injury this season, he looks in prime form heading into the most important part of any Major League Soccer year.
"You always want to step up in important moments," Dempsey told the media. "I was happy to play my part."
Seattle has now made the MLS Cup Playoffs for all of their seven seasons, finishing fourth in the Western Conference table behind FC Dallas, Vancouver Whitecaps FC, and the Portland Timbers.
Coach Sigi Schmid, who has been the club's manager since their inaugural season, is on the hot seat and must be aiming for the title this winter.
Seattle will take on Los Angeles this Wednesday night in their first postseason match of 2015. Real Salt Lake's 2015 campaign is now over.